Whip up a rich, foamy lather with just a fingertip of our plant-based shaving cream. The blend of natural ingredients replenishes your skin, prepares your hairs for a silky-smooth razor glide, and leaves you moisturized and refreshed after you've finished shaving.

For best results, use the shaving cream with our Shaving Brush and Marble Shaving Bowl.
Lavender & Lemon (Previously "Calm"): Notes of blue sage, lavender & eucalyptus. Soothing and stress-relieving – like a stroll through a French lavender field.

Citrus & Basil (Previously "Coastal"): Notes of bergamot, cedar, & oakmoss. Beachy and citrusy, like a midsummer's day in southern Italy.

Ingredients Water, Stearic Acid, Sodium Methyl Cocoyl Taurate, Myristic Acid, Coconut Acid, Glycerin, Potassium Hydroxide, Butyrospermum Parkii (Shea) Butter, Kaolin, Simmondsia Chinensis (Jojoba) Seed Oil, Helianthus Annuus (Sunflower) Seed Oil, Theobroma Cacao (Cocoa) Seed Butter, Mangifera Indica (Mango) Seed Butter, Tocopherol, Phenoxyethanol, Ethylhexylglycerin, Sodium Hydroxide, Fragrance (no Fragrance in Fragrance-Free)
How long will a jar last me?
Each of our 4 oz jars last most customers about 3 months.
Do I have to use this shaving cream with the Single Edge?
While our shaving cream isn't required for a successful shave with the Single Edge, we recommend using one that will provide a rich, coushiony lather to protect your skin from our sharp blades.
Why should I stop using canned shaving cream?
Canned, foaming shaving creams are full of alcohol and chemical preservatives. Alcohol strips away the healthy layer of skin which keeps the moisture in, leaving your face dried out - leading to irritated skin and premature aging.
1. Take a finger scoop of shaving cream and spread on both cheeks, chin and neck (make sure skin is wet) -- softening the concentrated cream.
2a. Time to whip up your lather! For the best results, you'll want to use a Shaving Brush. Run the brush under some water and start brushing your face using strong, circular motions to create your lather.
2b. If you have our Marble Shaving Bowl or a shaving mug, you'll want to smear the finger scoop of shaving cream in to the container. Follow the same steps with the brush, strong circular motions to create your lather, but in the bowl, then apply evenly on your skin.
Only the Good Stuff
We leave out the petroleum jelly, sulfates, phthalates, parabens, and other toxic compounds. They're cheap and effective, which is why so many cosmetic products include them – but they're extremely bad for you in the long run.
We prefer to use gentle, plant-based alternatives. Every batch is made by hand in the USA, and personally approved by our CEO before hitting our shelves.
---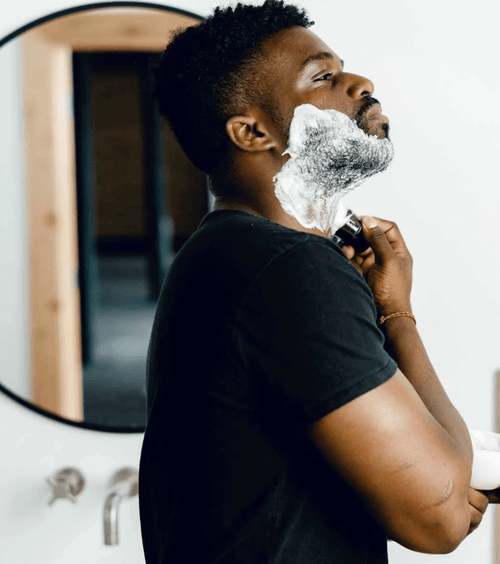 Kaolin Clay
Removes dirt from your pores and softens your stubble, letting your razor glide across your skin like silk. A natural exfoliator, kaolin clay's gentle cleansing action makes it suitable for all skin types.

Shea Butter
Extracted from the shea tree of West Africa, shea butter has been used for centuries as a natural, grease-free moisturizer. Its anti-inflammatory, anti-oxidant properties keep your skin fresh and healthy between shaves.

Jojoba Oil
The jojoba plant grows wild in the deserts of North America, and contains an oil rich in anti-bacterial and eczema-fighting compounds. It's hypoallergenic, naturally soothing, noncomedogenic (i.e. it doesn't cause pimples), and it reduces wrinkles.
---