New Trio - Triple-Screen laptop monitors
---
Overview
Introducing the new Trio and Trio Max, our upgraded triple-screen, plug-and-play monitors where you can go from one screen to three. Easy to use as a ultimate solution for the working professionals, gamers, stock traders, entrepreneurs, coders, and more - always on the go.
⋅ Brand new all-in-one design
⋅ 20% thinner and 1 pound lighter than the previous generation
⋅ Two screen size options (13.3" and 14.1")
⋅ 1080 Full HD, IPS display
⋅ Eye-care mode
⋅ Quick connectivity with any laptop with a USB-C or USB-A port
⋅ Compatible with Windows, macOS, Nintendo Switch and Dex
Screen size: Trio: 13.3-inch Trio Max: 14.1-inch
Dimension: Trio: 13.3" x 9.08" x 0.94" Trio Max: 14.1" x 9.5" x 0.98"
Weight: Trio: 3.5 lbs Trio Max: 3.8 lbs
Energy Consumption: 4.5W
Brightness: 250 nit (adjustable)
Refresh Rate: 60 Hertz
Resolution: 1920 x 1080
Aspect Ratio: 16:9
Connections & expansions: Two USB-C Ports

CompatibilityWindows, Mac, Chrome and other OS, Nintendo Switch, Android (Devices support Samsung Dex)

In the box:
Trio or Trio Max x1
Laptop Magnets x4
USB-C Cable x2
User Manual x1
The new Trio Series
One plus one no longer equals two.
---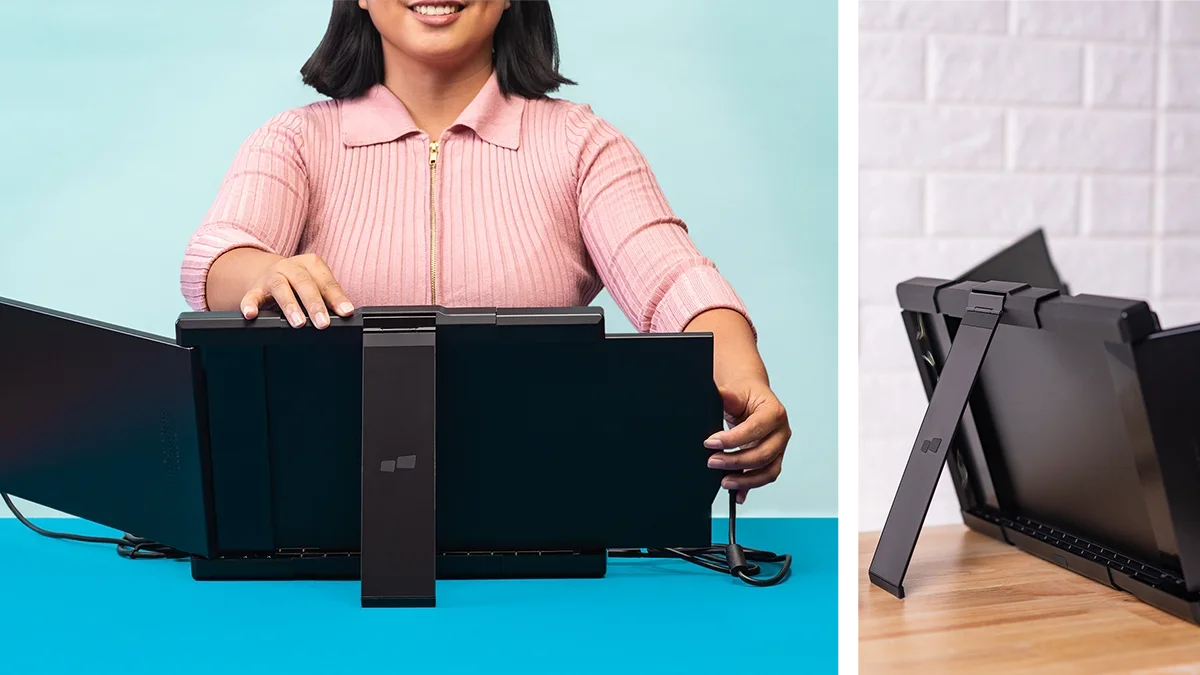 Brand New
All-in-one Design
We ditched the magnets…kind of. They're completely optional now thanks to an all-in-one design.

Use the magnets if you love them to attach Trio or Trio Max to your laptop, or leave the magnets behind using our new built-in kickstand. No more clunky clips to hold your screens in place.
---
For Ergonomic Comfort
and Various Scenarios.
The Trio & Trio Max telescope via a second-stage sliding mechanism now. This allows the screens to slide in and out of their housing even further, pivot about your laptop screen, and become completely hidden when fully collapsed for a cleaner look. You'll find how versatile the sliding screens are to satisfy multiple purposes.
---
01 Landscape Mode
Use it as your secondary monitor as a extended display or mirrored display. Say goodbye to toggling between windows and tabs.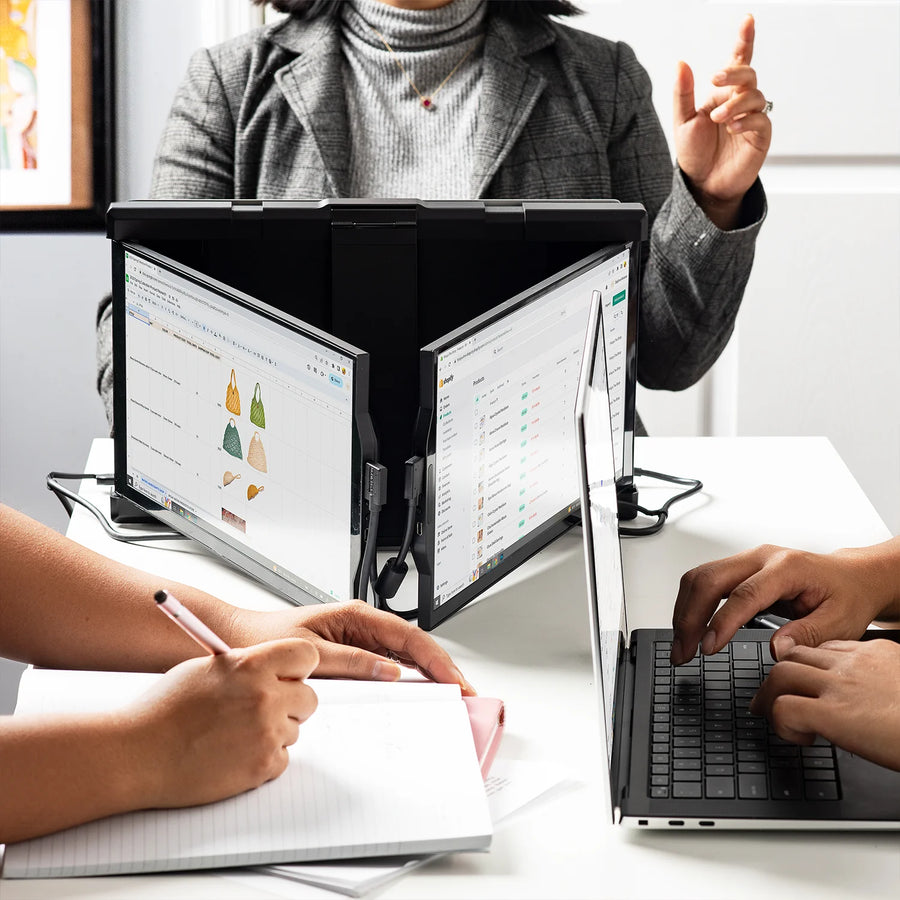 02 Collaboration Mode
Rotate both screens back to form a triangle to collaborate with others.
03 Portrait Mode
The portrait mode allows for increased font size, making it super convenient for you to read through the text. The portrait mode best serve web developers, content editors, content writers, proofreaders and programmers.
04 Presentation Mode
You can also flip the screen 180-degree to the front of your laptop and present the screen to anyone sitting across from you, whether it's a presentation to your team at work.
---
Effortless, Multi-screen Monitors On The Go.
The Trio and Trio Max offer an innovative, easy and personalized setup for all of your needs. Only 3 steps and it's ready to extend your vision.
Attach Trio to your laptop via kickstand or optional magnets
Slide out displays
Connect cables to displays
---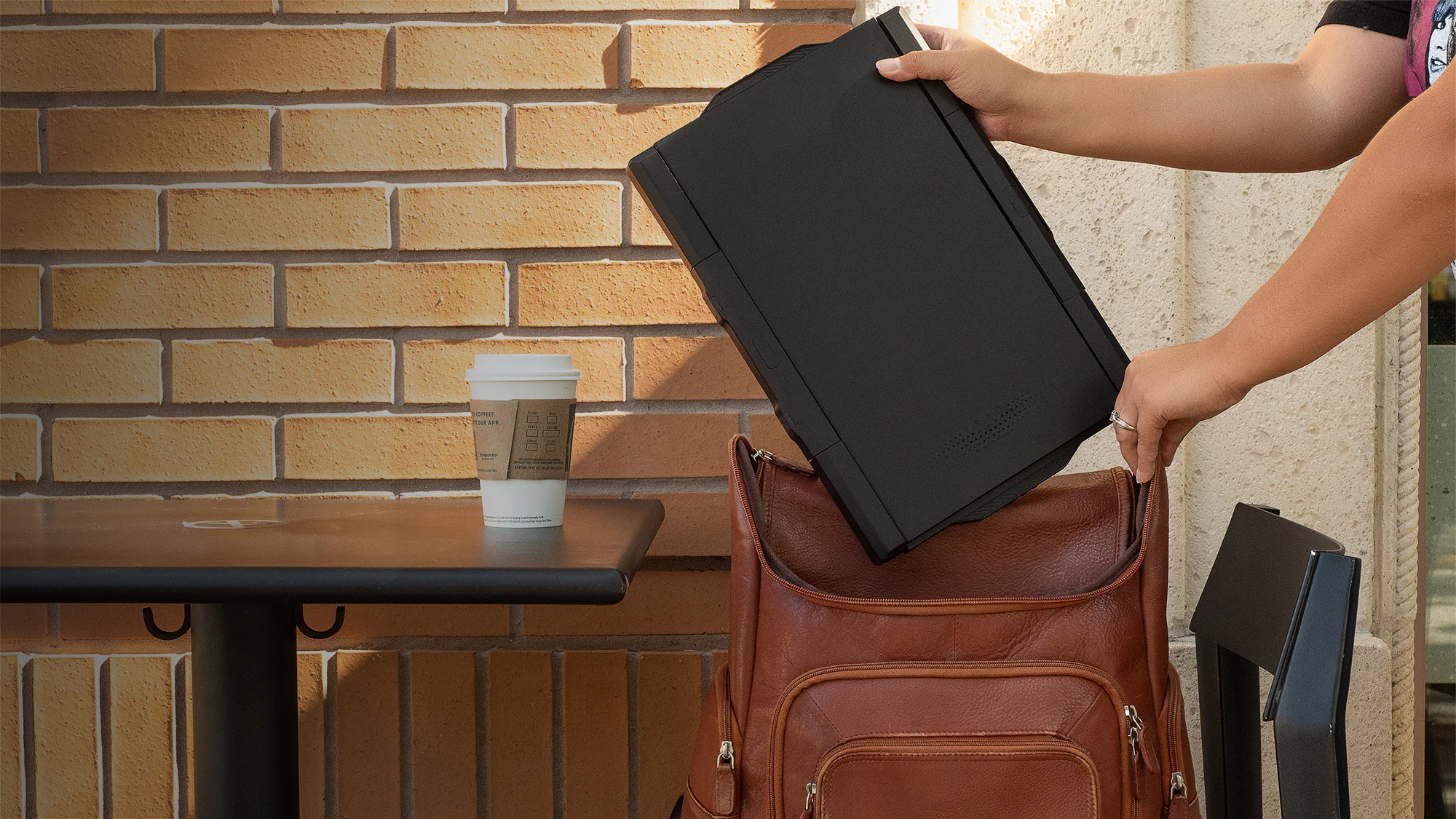 Optimized Design for Home Office and Work Anywhere.
The new Trio Series is 20% thinner and 1 pound lighter than the previous generation. It gives you true mobility with durable materials, ABS and aluminum. It's also energy-efficient and specially designed to reduce battery drain from your laptop. It can withstand the wear and tear that comes with transporting your laptop around.
---