ATD1 Backpack - Black
---
A Classic, updated.

The ATD1 is intended to be versatile and has a discreet look to blend in any setting. Thanks to its emblematic expandability, it's compact enough for EDC use when compressed and spacious enough for months of one-bag traveling. In other words: travel, work, play, all in one bag
Comfortable to be carried for hours, designed with clever pocketing (enough pockets to store your stuff, not enough to lose it), it is protective from weather or unwanted access while still being accessible for the user. Most importantly, it is built to be durable, therefore it is sustainable and will survive decades of everyday use.
Since its first launch in 2018, we did some small changes in materials, construction or branding at each run. Now, at its 5th production run, it has a completely redesigned bottom construction with a less slanted angle and less stitches facing the ground, new laminated and 100% recycled fabrics for shell and liner, angled shoulder straps attachment points to contour even better to human shape and widened distance between them and load lifters, making these even more efficient at managing the load while allowing also shorter torsos to find it comfortable. Plus, this run will feature Roll top stiffeners to help closing the pack, new "ATD" tonal embroidery for an even more subtle branding, Aluminium hardware on compression straps to open them in a breeze, Stretch side pockets to make easy to use them even when the pack is full and luggage pass through on the back for rolling luggage handle compatibility.

What does not change:
Top quality materials and almost paranoid construction. We have zero report of an ATD1 that ever failed on his user.

All fabrics are laser-cut (this is almost unique in the bags industry) to prevent any risk of fraying.
Hidden or clean finished stitches

 

protect both skin and thread from friction.
Stretch parts are double layered to keep them snappy for decades.
Flexible 23-55 L / 1220,5 - 3356,3 Cubic Inches volume adapts to any need.
Measurements: 50-70cm x 30cm x 26cm - 19,7-27,5in x 12in x 10,2in.

The

 

shape

 

maximizes internal space while keeping load close to the back.
Expandable Roll top construction can be closed on sides or top depending on your needs
U-shaped zipper on back

 

panel allows for top, side and clamshell opening.
Top, sides and bottom

 

handles.
less stitches on liner construction to maximize rain resistance.
Stretch sleeves keep laptops up to 16 inches suspended from the bottom.


Main compartment has no access on front or sides for peace of mind in crowded areas.

Front compartment

 

has its own volume and effective organization.
Compression straps

 

for volume flexibility and to carry additional gear.
Removable, Lightweight Curv® (self-reinforced polypropylene)

 

frame sheet.
Removable ambidextrous

 

sternum strap and hip belt
Inner Loops

 

to hang any pouch with PALS.

Paracord zippers pulls

 

help access and reduce noise.
OneWrap

 

Velcro®

 

removable strips for

 

webbing management.
PALS on bottom for a Bike light or pouch.

Loops on the inside

 

to hang an ASP Sling Pouch, an AFP Flat Pouch, or any pouch with PALS.
Full size padded belt

 sold separately

Designed, developed and made in Italy
Materials and Specs 

Outer Fabric

:

 

 

Challenge Sailcloth Ecopak® EPLX600. a waterproof laminate of 600d fabric, X Ply net and RUV film, all made out of 100% post consumer recycled textured Polyester.

Lining Fabric

: 

Challenge Sailcloth RBC®200. a 200d plain wave, post consumer recycled Polyester, PU coated and impregnated with eco-friendly C0 DWR treatment.

Webbing

: Mil-spec 1' nylon webbing.

Zippers

: YKK 10mm and 5mm zipper.

Padding

: 10mm, closed cell Evazote® 50 foam.

Frame sheet

: Propex Curv® (self-reinforced polypropylene fiber)

Measurements

: 50-70cm x 30cm x 26cm - 19,7-27,5in x 12in x 10,2in

Volume

: 20-55 L / 1220,5 - 3356,3 Cubic Inches

Weight: 1.7kg - 3.72lbs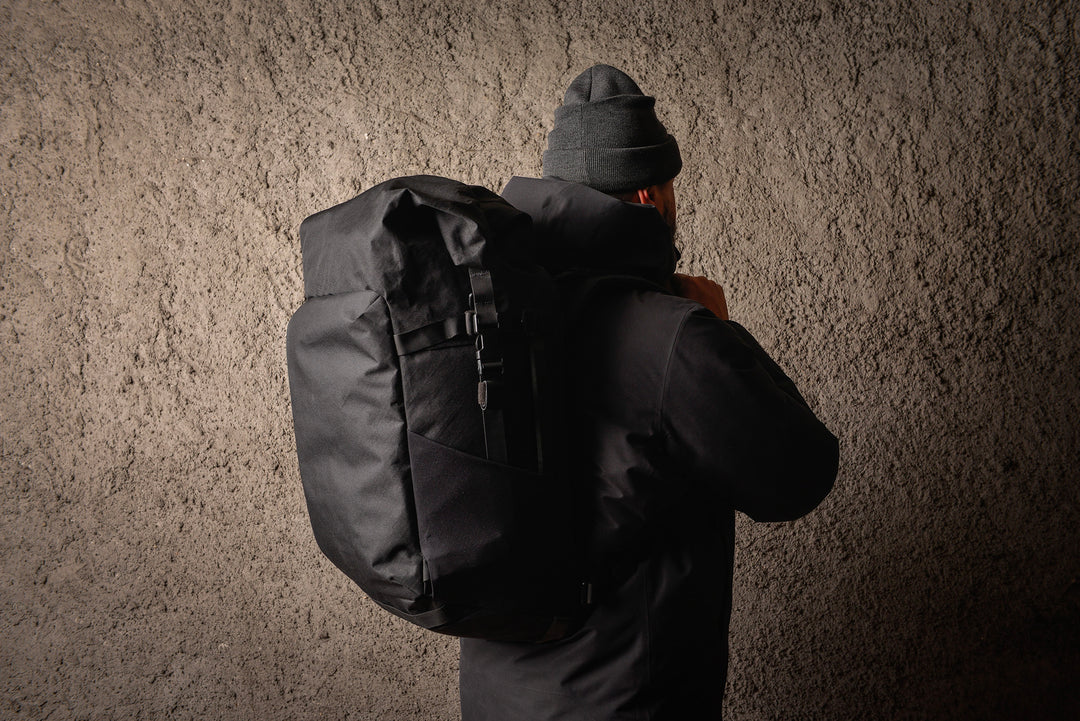 Break In
Rome wasn't built in a day, nor is your pack's fit. Compared to 500d Cordura®,
ATD1's new laminated fabric is more structured and stiffer: at the beginning, the pack feels rigid and shoulder straps may feel stiff to some: time and use will allow materials to stretch and conform to your body. Plus, Curv® frame sheet is straight when new but will shape on your back with regular use, thanks to your body heat. Just load the pack, tighten shoulder straps and use it daily to have it formed to your body like a good pair of jeans or a leather jacket: good, durable things take time.
---