Discover new worlds with this compact sling that keeps your essentials in reach, out of the way and tucked away. It's big enough for your essentials, a small mirrorless camera, a passport, your phone and small enough to keep you light on the go.
• Limited edition Black X-Pac™ VX42/VX21
• Orange 210D Ripstop Nylon lining
• Magnetic Fidlock buckle in the middle of the strap for efficiency
• Anti-theft, lockable zippers
• Integrated key tether to keep keys in one place
• Comfortable & easy to adjust Soft Nylon Strap
• Fits a Nintendo Switch
• Weatherproof fabrics
• Waterproof zippers
• Compatible with HUB Accessories
• Compatible with the Magnetic Stabilizer Strap(sold separately)
Full specs
• Internal scratch proof tablet sleeve fits an iPad Mini or a Nintendo Switch
• Premium Fidlock magnetic buckle
• 3 compartments
• Compartments are lined with 210D Ripstop Nylon
• Front quick-access compartment
• The main compartment comes is equipped with two pockets to store smaller items
• The rear compartment is designed to carry your Passport and other small valuables
• Key tether in the front compartment
• The strap can be quickly and easily adjusted on the go
• Lockable zipper
• External Fabric: Black X-Pac VX42
• Internal fabric: 210D Orange Ripstop Nylon
DIMENSIONS
Length: 29cm (11.4") Height: 19 cm (7.5") Depth: 6 cm (2.4")
Volume: 4L
Weight: 330grams
Shoulder strap length: 110cm (not including bag length)
THREE FORMATS
1. Waist Pack - Can be worn around the waist.
2. Crossbody - Can be worn as a sling, in the front or in the back.
3. Over the shoulder - Can be worn over the shoulder by lengthening the handles.
Fabric EXTERIOR
X-Pac™ fabric originates from the sailcloth industry. The need for huge yardages of ultralight, ultra-strong, waterproof fabrics means sailing drives innovation.
X-Pac™ is lightweight, forever waterproof, UV resistant, and has good tear, puncture, and abrasion resistance.
Interior Fabric
210D Orange Ripstop Nylon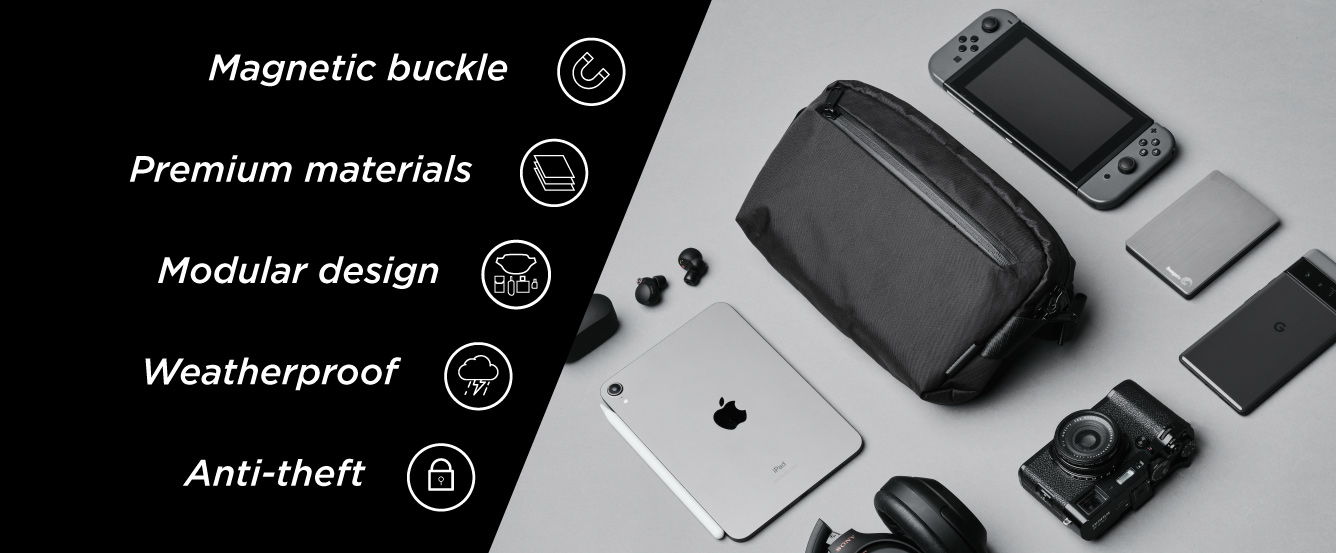 ---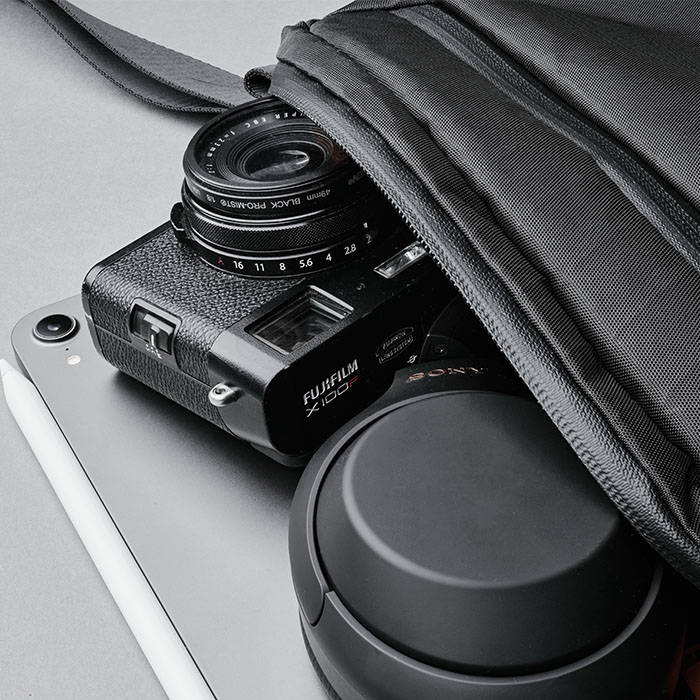 ORGANIZED
Store your tech devices, cables and chargers with internal organization for small accessories.
It also comes with a scratch proof tablet sleeve so you can safely carry your iPad Mini, Kindle or Nintendo Switch.
---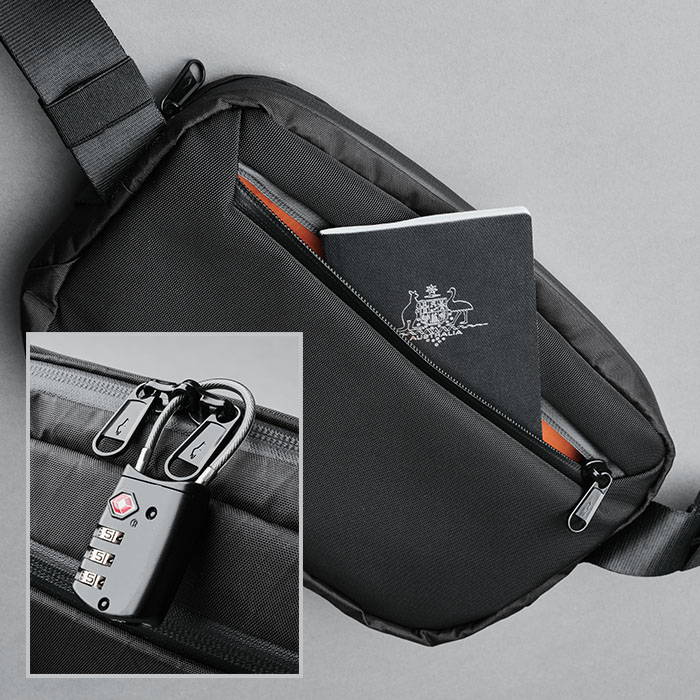 TRAVEL READY
Thoughtful organization and compartments to safely store your daily and travel essentials in the right place.
Lockable zippers you can quickly and easily lock in crowded places.
Compact & ultra-light design that won't weigh you down.
---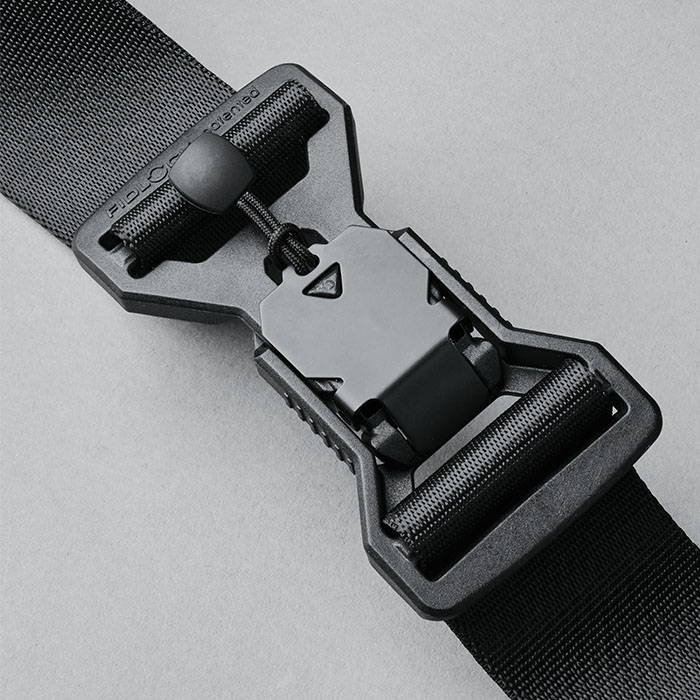 FIDLOCK MAGNETIC BUCKLE
Premium, German-designed magnetic buckle for that magic feel.
Convenient and easy to use so you can unbuckle it with one hand but stays secure when wearing the bag.
---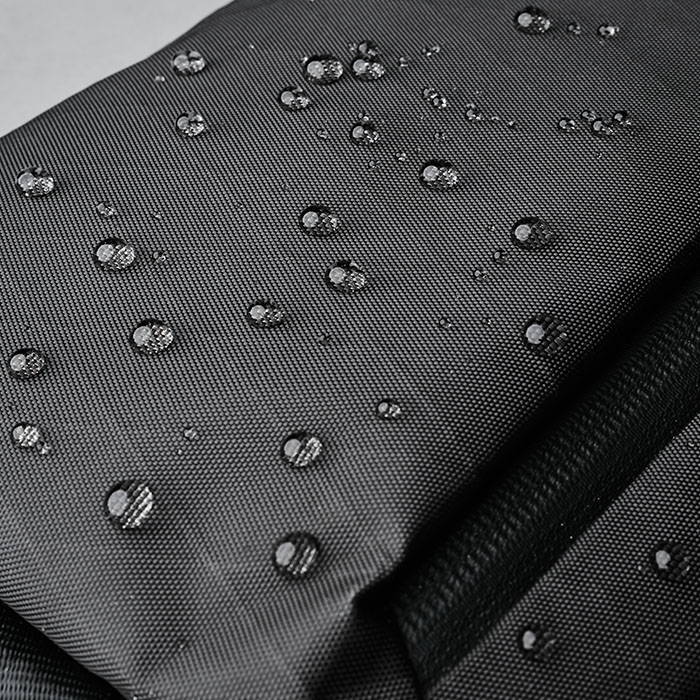 HIGH-QUALITY WEATHERPROOF MATERIALS
Waterproof zippers will keep your gear dry even under heavy rain.
Water won't penetrate the inside of the bag with these naturally hydrophobic weatherproof fabrics.
---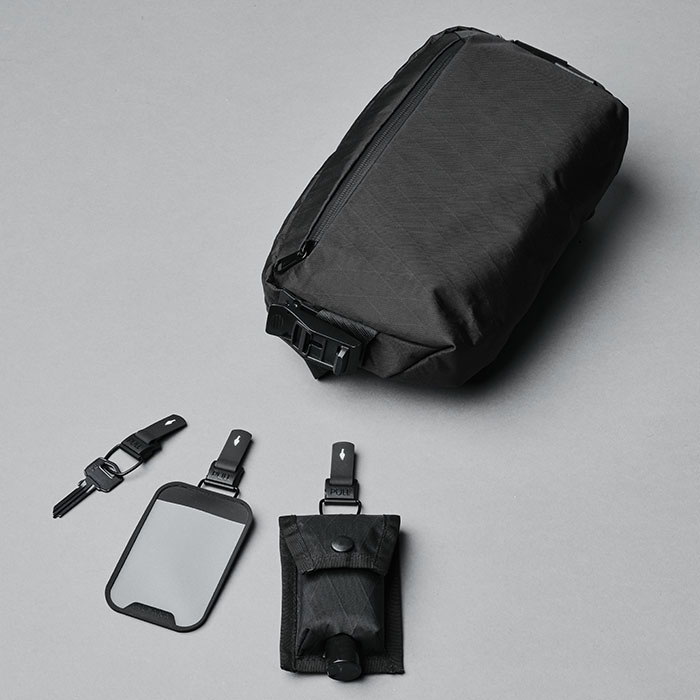 MODULAR DESIGN
The Go Sling Mini gives you the freedom to add as many modular accessories (sold separately, click here to get it) as you need for a convenient hands-free experience.
These optional mods are made to enhance your day and give you an extra sense of convenience.