Regular price
Sale price
RM179.00
Unit price
per
Sale
Sold out
Share
---
Protects from dirty fingers & airborne droplets: blue light filter + light responsive + Rx friendly.
standard lenses: The best option for everyday use. The anti-fog coating ensures that your lenses won't fog up. The blue light filter blocks 40% of blue light, helping to reduce eye strain from screens.
Stoggles are ANSI Z87.1 certified for impact resistance, chemical and radiation resistance, and shield coverage.
Light Responsive Lenses: These lenses also have the features of anti-fog coating, blue light filter, and also made by impact resistance polycarbonate. It protects you when you're wearing them, and with light responsive lenses you'll never need to take off. These lenses are clear when worn indoors, and become grey sun lenses when you go outside. Our light responsive lenses have an anti-fog coating and block more blue light than traditional clear lenses.
Need prescription/power lenses? Click here to learn more
The stoggles square exudes classic elegance with its defined form and keyhole bridge, making for a beautiful fit on almost any face shape.
The stoggles round is playful, yet smart. This timeless silhouette is effortlessly cool and always in style.
Stoggles were designed to fit the widest range of face shapes and sizes. We've achieved this through flexible, anatomically formed temples. Our scientific approach to fit testing included 3D printing small, medium, and large heads that were developed during a 2003 study by averaging the anthropometric data of nearly 4000 test participants.
Stylish Protection For Your Eyes
Stoggles are the first goggles designed to look and feel like classic eyewear frames while helping to protect eyes from grimy fingers. With premium blue light blocking and anti-fog lenses, stoggles are made for all-day, everyday comfort.
---
Top Features
Transparent Side + Top Shields
Anti-Fog Coated Lenses
Blue Light Blocking Lenses
Light Responsive Lenses
Impact Resistant Polycarbonate
ANSI Z87.1 Certified
All-day Comfort
---
---
Integrated side & top shields flow seamlessly from the front of the frame creating a force field for your eyeballs.
---
The clear or lightly tinted shields create an open and airy feeling, while bathing your peripheral vision in bright summery hues.
---
Polycarbonate is a fully recyclable material that is both lightweight, flexible, shatterproof and impact resistant. This material has crisp optical clarity and blocks nearly 100% of UV rays, so you'll be protected by both the lenses and the frame.
---
Stoggles weigh only 18 grams and feature an anatomical temple design for a comfy, yet secure fit that feels great all day long.
---
Unlike your average lenses, our stoggles won't fog up. If properly cared for, the anti-fog coating should last up to 2 years.
---
Smartphones, TV's, computer screens, & LED's emit blue light that can cause eye strain, headaches, and negatively effect sleep. Our standard lenses block blue light to make your everyday life a bit more comfortable.
---
Our light responsive lenses are crystal clear when worn indoors and automatically darken to become sunglasses when exposed to sunlight.
*Light Responsive Version Only
---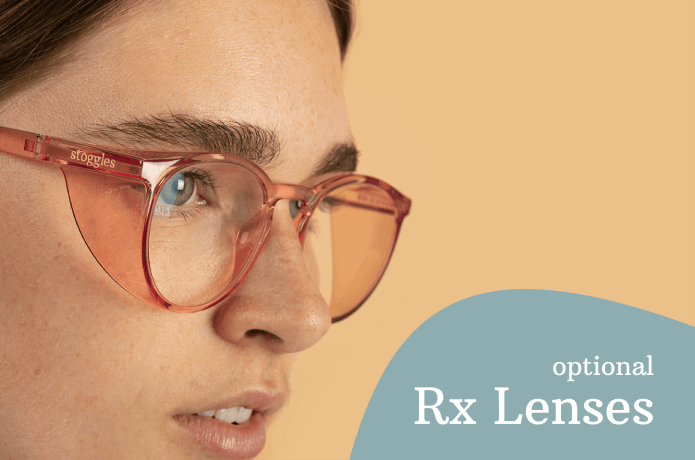 ---
Control it all like magic
In a careful selection of products, we bring together tech gears and gadgets of the highest standard, surrounding ourselves with fewer but better stuff. We are dedicated to products that are durable, designed to last .
Read More