OBSBOT Tiny is an AI-powered PTZ Webcam which supports plug and play.
If you've ever did video calls or livestream, you know how hard it is to keep yourself in frame.
With AI tracking with Auto- Framing. Tiny can make your video calls more freedom.
System requirement: Windows® 10 or later, Windows 8, Windows 7 macOS® 10.13 or later
AI-Powered PTZ Webcam
OBSBOT Tiny is an AI-powered PTZ Webcam which supports plug and play. Feel free to have a video call.
---
AI Tracking with Auto-Frame
OBSBOT Tiny uses deep learning neural networks to achieve AI tracking with auto-frame, it always keeps stable and smooth tracking you and automatically keeps you framed front and center in all your streams and videos. All you need to do is be yourself.
---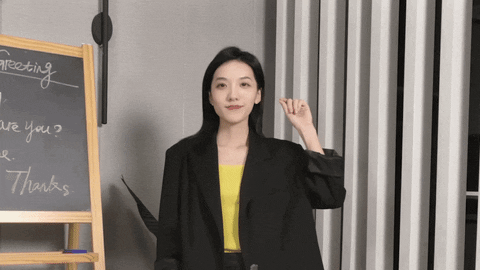 Gesture Control
OBSBOT Tiny has first of the kind implementation of gesture control in AI webcam. Empowering users to access a series of functions such as select/cancel tracking target, zoom in/out with natural simple gestures. No need to press the button or interrupt your flow.
---
AI Auto-Exposure and Smart White Balance
Based on our powerful AI functions, Tiny is totally different from any other webcams in auto-exposure and white balance which always focus on making the person looks great. So just forget the poor light, you are always the best in front of Tiny.
---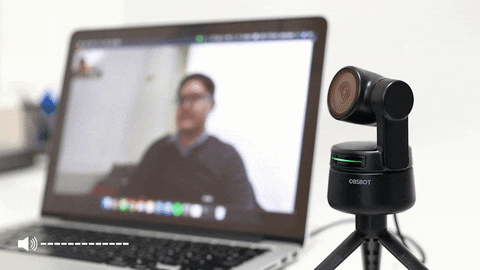 Unparalleled Privacy
Simply tilt the camera down to instantly shield yourself from view. Protect your instant privacy at a moment's notice.
---
Audio Support
Premium audio performance with built-in dual omni-directional mics with noise cancellation.
---
Various Placement
Tiny can be placed using the table, magnetic adsorption or tripod and other various placement to support your various scenarios.
---
Software
OBSBOT TinyCam for advanced setting, which also can do some control such as adjust the rotation of the gimbal, select target or unlock target, zoom in or out, set preset positions and so on.
---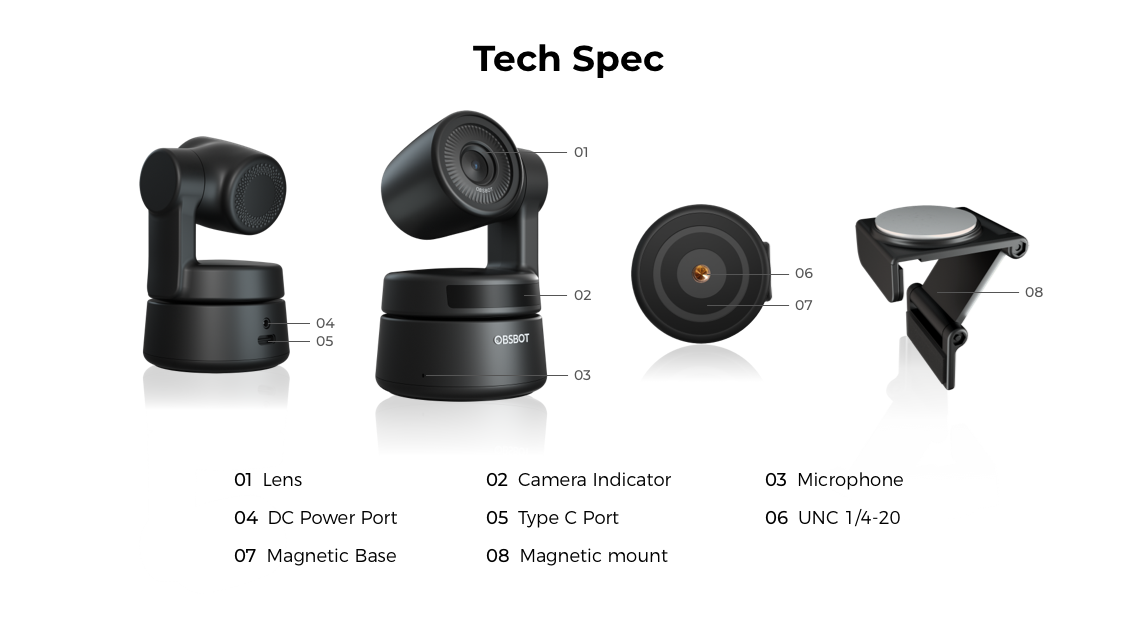 Outer charging port & contact interface
Supported resolutions: 1920x1080, 1280x720, 960x540, 640x360
Supported frame rate:
MJPEG: 1920x1080@[30 24 20 15], 1280x720@[60 30 24 20 15], 960x540@[60 30 24 20 15], 640x360@[60 30 24 20 15]
YUV: 1920x1080@5, 1280x720@[10 5], 960x540@[15 10 5], 640x360@[30 24 20 15 10 5]
H264: 1920x1080@[30 24 20 15], 1280x720@[60 30 24 20 15] 960x540@[60 30 24 20 15], 640x360@[60 30 24 20 15]
---
Size ( without mount ):
89.4mm x 58mm x 58mm
Size ( with mount ):
142mm x 58mm x 58mm
Weight ( without mount ): 146g
Weight ( with mount ): 175g
2-axis gimbal
Gimbal installation: Non-removable
Controllable range: Pan: ±150°,Tilt: ±45°
Structurally possible range: Pan: ±160°;Tilt: ±90°
Max control speed: 120°
Max video resolution: 1080p/30 fps, MJPEG, H264
Digital zoom: 2x
Field of view: 90°
Built-in Audio: Built-in dual omni-directional mics with noise cancellation