Stackable with the Snap-on Phone Stand & Wallet for on the go.

Compatibility:
Works with iPhone 15/14/13/12,
Universal to all phones including Android models with a non-silicone case (
a MOFT Magnetic Ring is included)
.
Compatible Devices:
iPhone with MagSafe (iPhone 12/13/14/15);
Universal with other phone models including Android, non-MagSafe iPhone and non-silicone phone cases with an included MOFT Magnetic Ring (Note: the ring only sticks to non-silicone phone cases)
Three Modes with Adjustable Angles:
•Floating Mode
- Video Call Angle (forward tilt up to 10°)
- Showcase Angle (backward tilt)
- Theatre Angle
- Browsing Angle
- Macro Photography Angle
•Stand Mode
•Vlogging Mode
Tips on Using it with Other MagSafe Accessories:
Snap off the Tripod Stand to switch to other accessories, snap back on the Tripod Stand and stack on an accessory like our Snap Stand & Wallet to carry together effortlessly (For the wallet stacks on the tripod, check out the last gif on the main image section).

Dimensions: 3.8*2.5*0.3 in/96.5*63.5*6.9 mm
Weight: 2.9 oz/85 g
Material: MOVAS™ Vegan Leather, Magnets, Metal sheets, Fiber glass, PC
Is it comparable with other cases?
Yes, it is compatible with other cases, as it comes with a free MOFT Magnetic Ring to work with non-MagSafe cases. Please note that the Magnetic Ring won't stick to silicone cases which may be too slippery to attach the ring.
Any chance this can be a wallet also?
We didn't add the wallet feature to it so as not to add bulk when it's carried. But you can switch between the tripod stand and any MagSafe wallet like the
Snap-on Phone Stand & Wallet
and stack them together for easy carrying on the go.
Is it stable considering how thin it looks at the standing position?
Yes, it's stable. With the origami-inspired structure, it has a triangular base for stability while being thin when folded. It also passed the MOFT Lab Test to support a weight up to 17.6 oz/500g (the iPhone 14 Pro Max weighs 8.5/240g). Additionally, the hinge of the tripod stand is made with manganese steel to remain solid even after being opened and closed 5,000 times.
Is the tripod stand thicker than the lenses of the iPhone so you can lay it on the back without the lenses touching the ground?
Yes, the tripod stand is thicker than the lenses of the iPhone, so you can lay it on the back without the lenses touching the ground.
Can I use it with the MOFT Snap Battery while wirelessly charging?
Certainly, you can position the Snap Battery Pack directly between the phone tripod and your phone, like a sandwich, thanks to the dual-sided magnetic design of the battery pack. However, it's best to avoid this setup when using the Video Call Angle, as it can cause the phone to tilt due to an imbalance of force.
Is it yellowing-resistant?
Yes, it is made with our pioneering, self-developed MOVAS™-E vegan leather, which boasts remarkable UV and dirt resistance compared to regular leather. This means it's less likely to yellow over time. To ensure the product looks and performs at its best, it's recommended cleaning any stains immediately.
Will its color fade?
The MOVAS™-E vegan leather also retains its vibrant color for a long time through a unique dyeing process and materials. A quick tip: Avoid strong chemicals that might damage the leather and lead to color fading. To keep it looking sharp, use alcohol below 75% concentration and skip other chemical cleaners in your regular maintenance routine.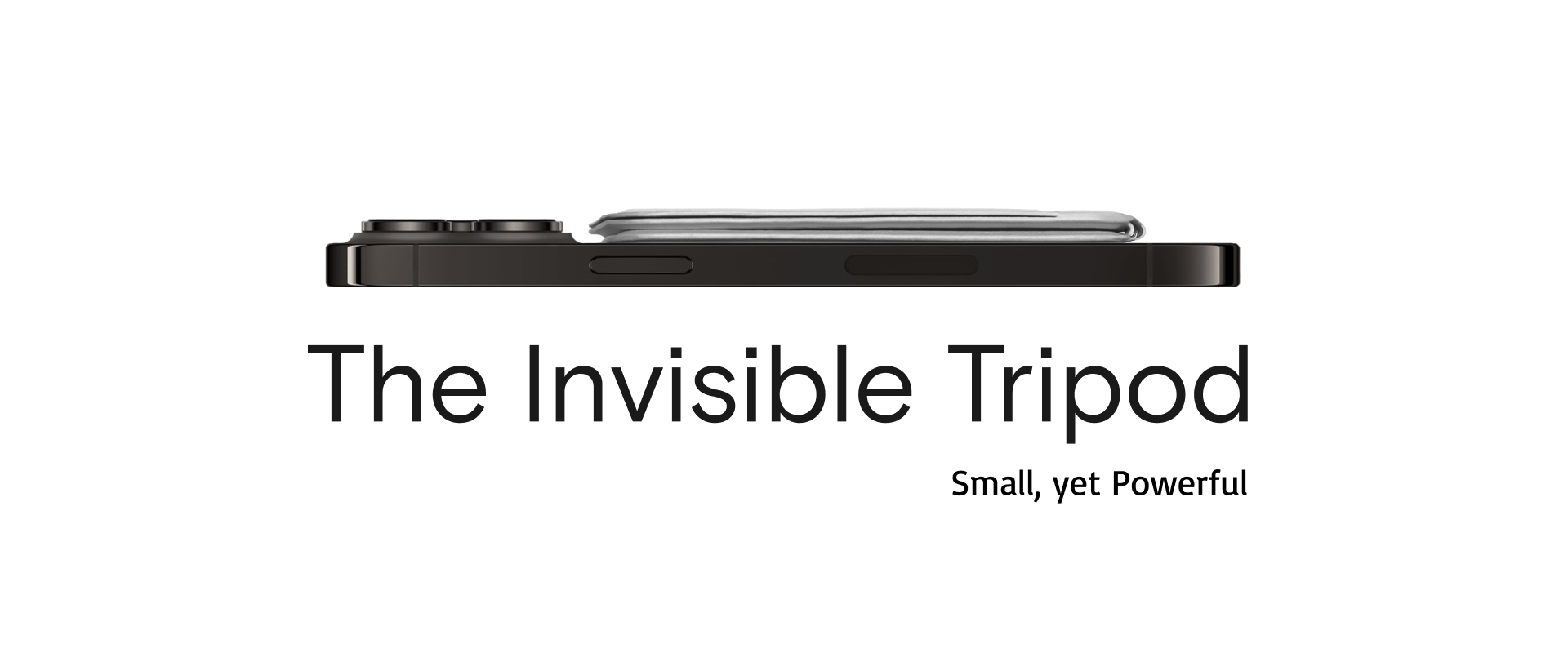 ---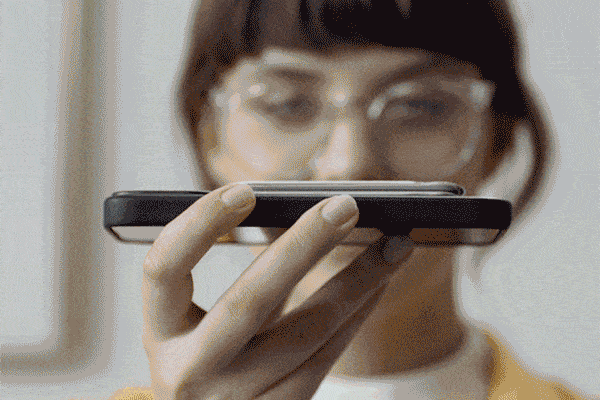 Snap. Unfold. Action. Quickest, Smallest, and the Most Versatile.
Capturing inspiration instantly has never been simpler. With a swift flip, this powerful tripod unfolds effortlessly, making it easy to pursue your creative passions.
---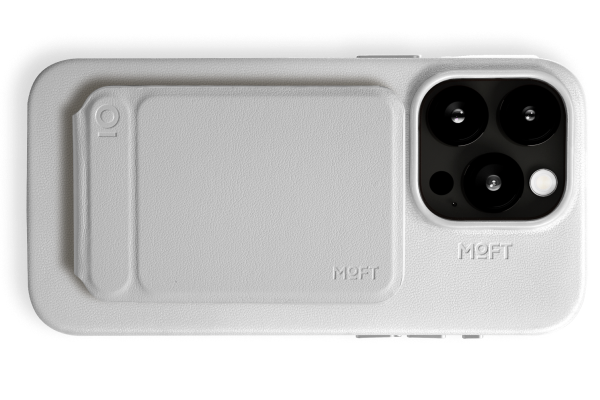 Unseen, Unfelt, Unnoticed, One-piece Structure.
The patented triangular design structure unfolds from a flat card-sized object to a solid support base. Its unique design has been thoroughly tested and proven, ensuring stability at the center of gravity.
---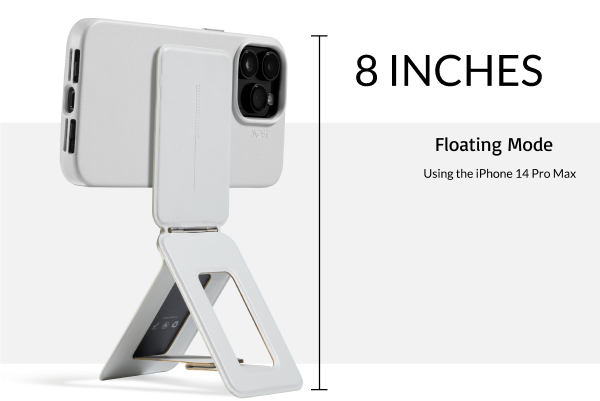 Super Height, Super Steady.
Raises phone cameras up to an impressive 8 inches in height. This makes it perfect for capturing moments while vlogging, attending video meetings, live streaming, or taking photos at events.
---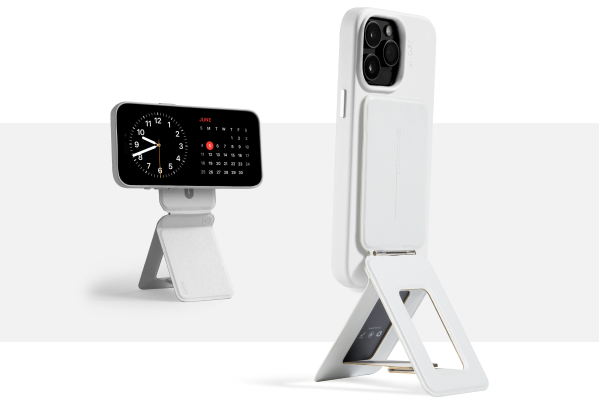 Magnetic Attachment, Easy Switching.
Horizontal and vertical switching is fast and flexible so you're free to define your best angle.
---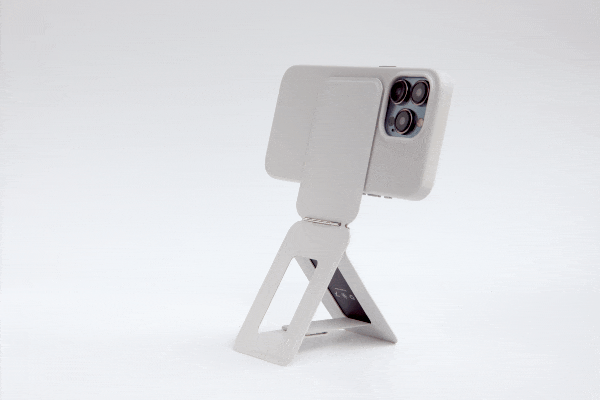 Full Adjustment, Flexible Angles.
Strong magnets and a hinge mechanism allow the origami design to unfold for an adjustable angle range across three versatile modes: Floating Mode, Vlogging Mode, and Stand Mode, that can be tailored to your needs.
---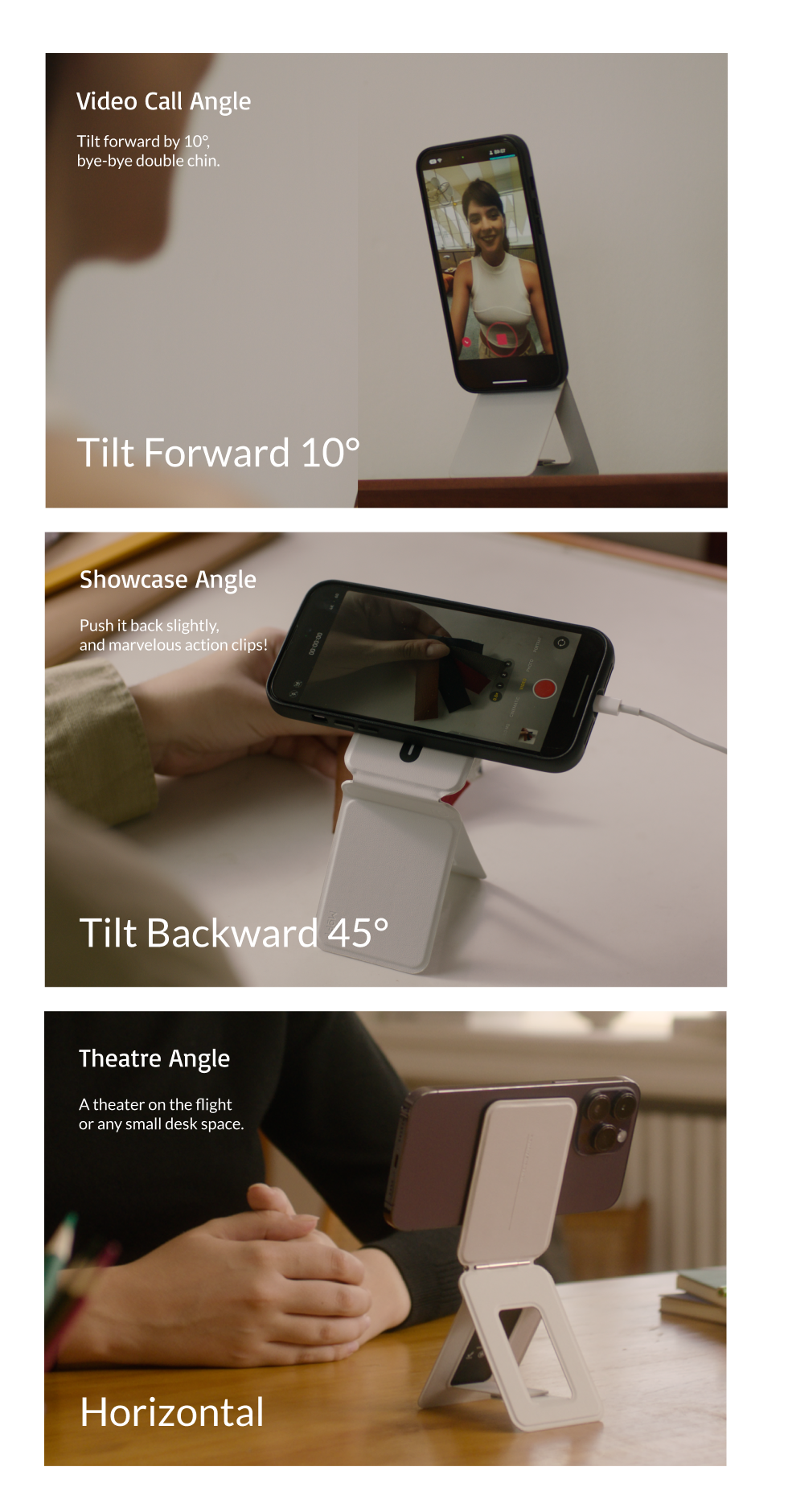 ---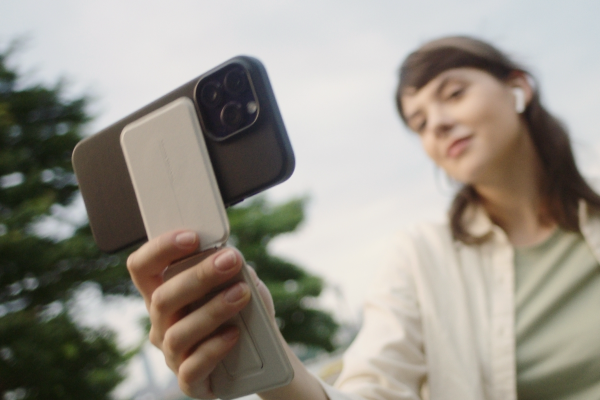 Record Life
A selfie grip that's just a fold away. Whether for daily life or a spontaneous adventure, you're one step away to capturing the moment.
---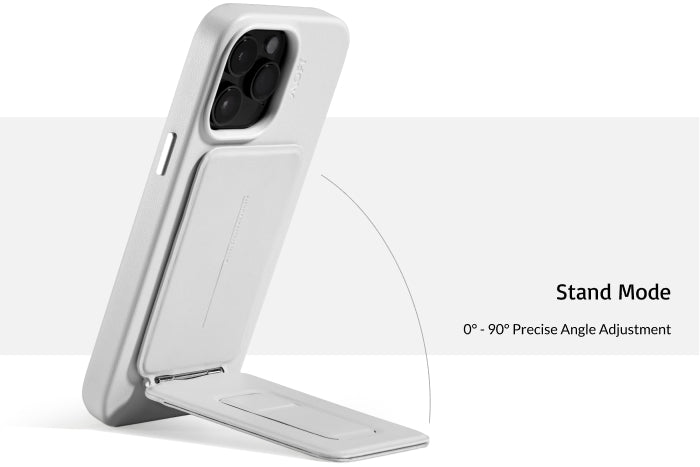 Endless Possibilities
Effortlessly tailor your angle in landscape or portrait mode to suit your preferences. Whether you're creating content or immersed in a video, your desired perspective is always at your fingertips.
---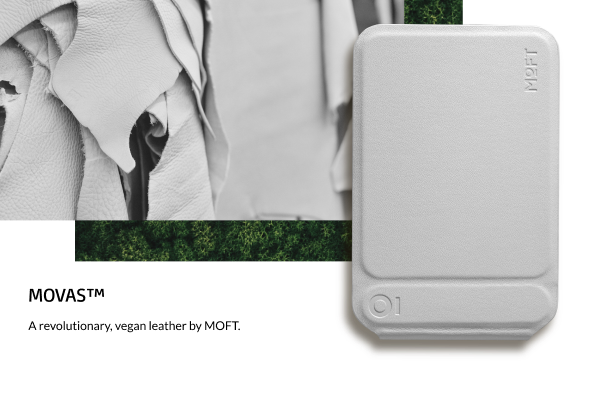 Eco Material
Made with MOVAS™-E Series vegan leather, it's a balanced combination of softness, durability, and sustainability that is non-toxic and environment friendly.
---