Regular price
Sale price
RM299.00
Unit price
per
Sale
Sold out
Availability:
Pre-order, shipping usually takes 2-3 weeks
This is a pre-order item. This item will be shipped out directly from our supplier warehouse after the order is confirmed, it may take longer or shorter than expected, we will get in touch if the item is not available with an alternative or refund option.
Share
---
mifold- the most advanced, compact, and portable booster seat ever invented.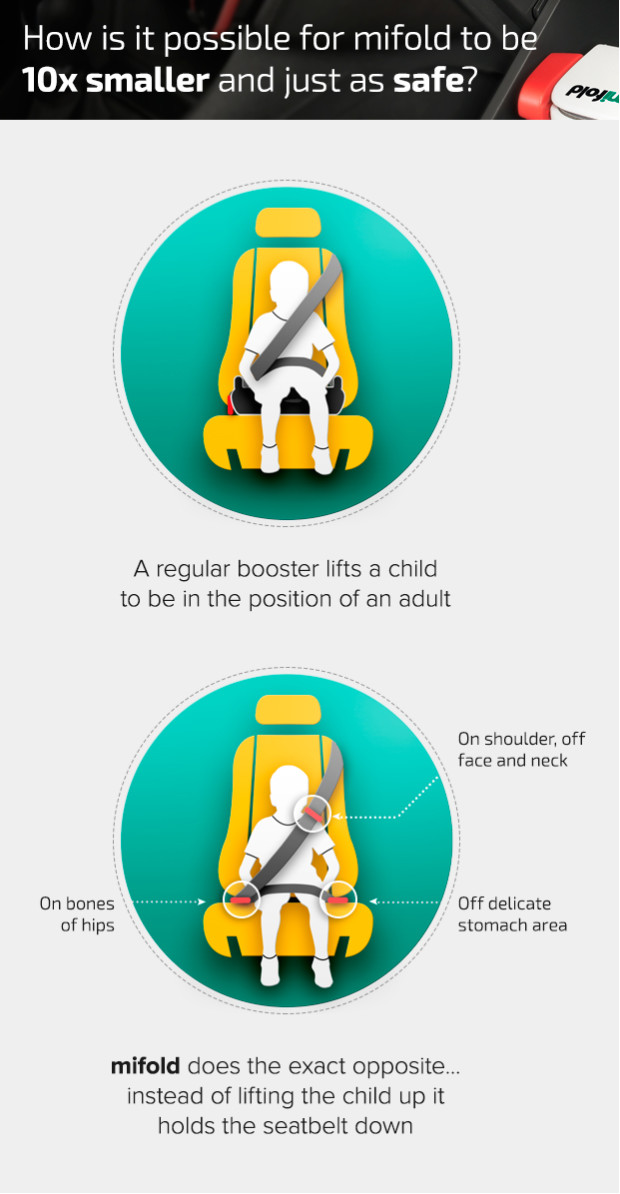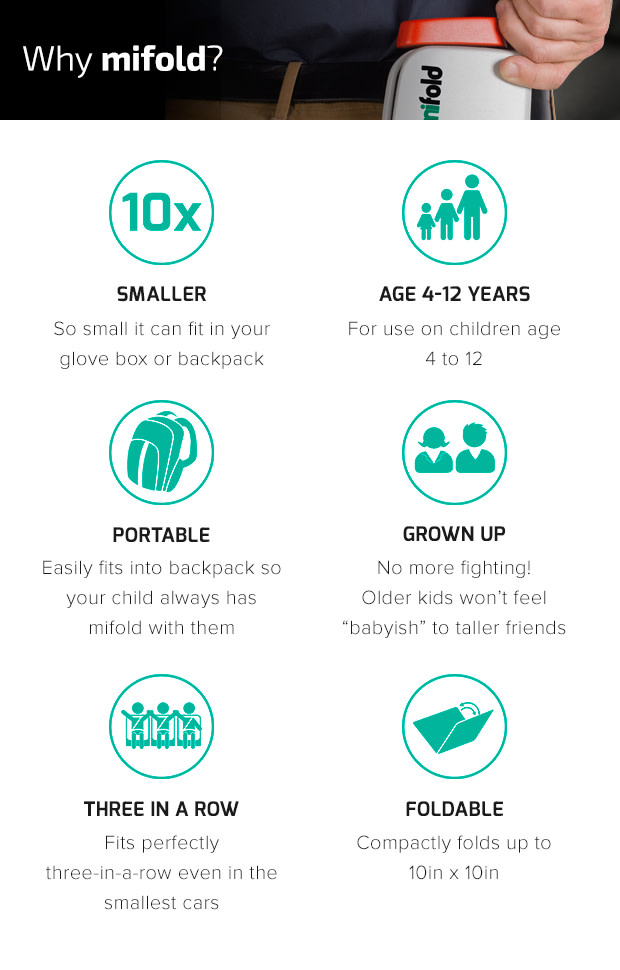 6 gorgeous, practical colors


WHAT ARE THE LEGAL STANDARDS FOR CHILD RESTRAINT SYSTEMS?
The mifold Grab-and-Go booster seat is designed to conform to the most universally accepted global car booster seat regulations, specifically:
European Union ECE R44/04; FMVSS 213 in the United States, and the RSSR regulations in Canada. Carfoldio Ltd., (the Company that manufactures mifold) has conducted comprehensive test programs in test facilities certified for each of these standards to confirm compliance with each of these regulations.
Carfoldio is dedicated to providing high quality products utilizing premium raw materials and detailed quality assurance procedures. We perform rigid quality control testing both internally and we test the final product at testing facilities certified for each of the regulations to verify initial and on-going compliance. Carfoldio. is committed to providing our customers with a mifold Grab-and-Go booster seat that is high quality, functional, and portable that meets the needs of active families.
Based on our comprehensive testing of the product, Carfoldio. has verified and can certify that testing of mifold has been completed successfully with all tests yielding results that either meet or exceed the requirements of the applicable regulation FMVSS 213.
For children at least 4 years old and a weight of 15kg - 36kg.
Height: up to 150cm tall
safety: Meets or exceeds European regulations ECE R44.04 (Suitable for Malaysian Regulation)
Size: 25cm x 12cm x 4cm
mifold is regulated for use in all markets that permit the sale of backless boosters. The model of mifold sold in Malaysia can be used in all countries that allow the use of ECE R44.04 booster seats.
Materials: Strong metal chassis of 6061 aircraft grade aluminium (as strong as steel) and Dupont™ Delrin® 100ST a super tough plastic polymer for superior impact resistance.
Weight: 750g
Setup: About 30 seconds.
Adjustable: Three width settings of "small," "medium," and "large," with a fully variable shoulder height.
mifold, the grab-and-go booster seat is the most compact and portable booster seat ever invented. It is more than 10x smaller than a regular booster and it's just as safe*. It can easily fit into a glove compartment. Regular booster seats work by lifting the child up into the position of an adult so that the adult vehicle seatbelt fits perfectly on the shoulder and across the hips. mifold works in the exact opposite way, instead of lifting the child up, mifold holds the seatbelt down - on the shoulder and across the hips!
Research shows that in more than 25% of journeys, children are traveling without any type of child restraint. mifold was invented to be available at all times when a regular booster seat is not. With mifold, there are no more excuses, it can be available for every child, in every car, on every journey, every time.
mifold is the perfect booster seat designed for on-the-go parents and families. It's revolutionary compact design makes your family more mobile and ready for anything, carpools, vacations, car rentals, taxis, grandparents and so much more.
Control it all like magic
In a careful selection of products, we bring together tech gears and gadgets of the highest standard, surrounding ourselves with fewer but better stuff. We are dedicated to products that are durable, designed to last .
Read More