It's natural to wake up periodically throughout the night, but when falling back asleep becomes a problem, sometimes you need an extra push to help you relax. Which is why the Dodow Sleeping Lamp is designed to help rebalance your autonomic nervous system, and break the vicious circle of stress and anxiety that keep you awake.
Fall asleep within 8 minutes, easily and without stress
1. Turn On
Tap the touch-sensitive surface once for the 8 minute mode, twice for the 20-minute mode.
2. Breathe with the light
Synchronize your breathing with the blue light projected on the ceiling: breathe in when it expands and breathe out when it retracts.
3. Sleep
At the end of the exercise, Dodow turns off by itself. Then you are in ideal conditions to fall asleep, in your favorite position.
Find out how Dodow will help you sleep
Can't fall asleep ? Turn on Dodow!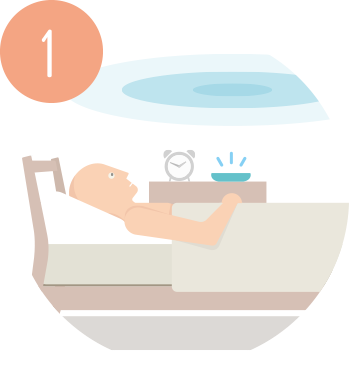 Breathe in rhythm with the light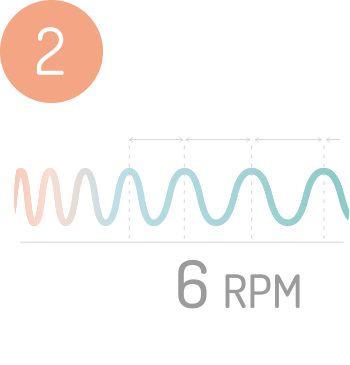 Dodow gradually slow down your breathing from 11 to 6 breaths per minute, the cardiac coherence rhythm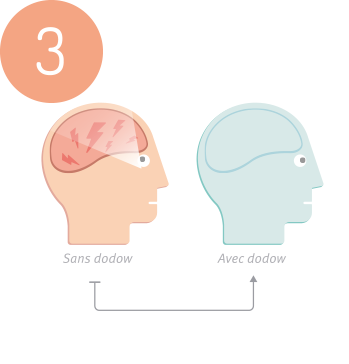 Concentrating on the halo help you reduce your brain activity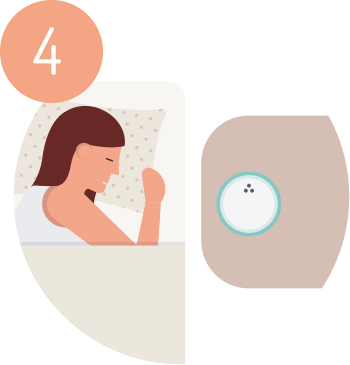 Fall asleep without side effects
What Dodow users have to say
Would Dodow work for me?

Awakening during the night

Thoughts churning in your mind



How Dodow helps you:
By breathing long enough at the Dodow rhythm (6 respirations per minute), you stimulate the baroreflex, a small physiological mechanism that restores the balance of the autonomic nervous system. Thus, you will quickly pass from the alert state (activation of the sympathetic nervous system) to the resting state (activation of the parasympathetic nervous system), the same condition which you are in during digestion: slightly drowsy.
Synchronizing your breathing to a light pulse at a slow and steady rhythm has a hypnotic effect (the phenomenon is similar to watching a pendulum). Thus, after a few minutes you are able to let go and sleep.
After a few months, you will regain confidence in yourself, you will realize that your body knows how to fall asleep alone, when the mind or anxiety do not interfere. You can then take the place of Dodow!
Dodow turns off by itself, I fall asleep
Dodow, an innovation inspired by 13,000 studies on cardiac coherence
Dodow : Created by insomniacs
The danger of sleeping pills led Alex, a chronic insomniac, to look for other ways to fall asleep. He discovered that the control of breathing is at the heart of practices such as meditation, yoga, Sophrology and cardiac coherence. Numerous studies have shown that breathing is ultimately one of the best tools for regulating stress and mental restlessness! Long months of meditation practice have definitively solved his problems. Accompanied by industrial designers Pierre and Gui, Alex wondered how to help the 8 million French insomniacs succeed in falling asleep faster thanks to breathing, without having to train during long months. After 2 years of research and numerous prototypes, Dodow was born.
A few questions before making your decision
Why is the light blue?
The color blue was chosen after much testing, based on the generally accepted perception that blue is calming. Blue light in high doses can help wake you up by inhibiting melatonin secretion, but Dodow does not. Being projected on the ceiling, the light signal, at its maximum intensity and for someone who is lying in bed, has a very low intensity (less than 1 lux), compared with the relatively strong intensity of a computer or television screen (about 60 lux at a distance of 50cm). In addition, the exposure time (between 8 and 20 minutes) is low. Dodow's impact on the circadian rhythm is therefore almost zero or, in any case, far too low to delay falling asleep and counteract the positive effects described above. The luminous halo is, therefore, in fact, more similar to color than to light.
Does it work with kids?
Yes! We've had parents tell us that their child used to take several hours to get to sleep, after the introduction of Dodow their child falls asleep in a matter of minutes. If your child is happy to use the product, you can help them to use it correctly and even do it with them the first time. The youngest child we've worked with was a 6-year-old.
Does the product come with batteries?
Dodow is delivered with batteries, all ready to help you get your precious shut-eye. The product uses AAA batteries which are pretty easy to find in shops - they're the same ones used in your remote control.
Does it turn off by itself?
Yes, Dodow turns itself off at the end of the exercise, after 8 or 20 minutes depending on the setting you have chosen.
Why do I need Dodow ?
Unless you have received special training, like Air Force fighter pilots, this cardiac coherence exercise is very difficult to do without a breathing guide! Giving Caesar his due, the breathing exercises of Sophrology are themselves inspired by Yoga Pranayama. Here are the 4 reasons why Dodow is not just a simple Sophrology breathing exercise:
1. Dodow indicates an optimal pace for you: 6 breaths per minute to put you in a state of rest and to rebalance your autonomic nervous system. Every breath out is 50% longer than the breath in to tire you out. Trying to follow your own breathing independently forces you to think and to count, which causes performance anxiety, thereby significantly delaying sleep.
2. The attention span of a person not used to meditating is thirty seconds at most, so you can very quickly become lost in your thoughts and forget to do the breathing exercise. Dodow's light signal keeps you on track!
3. Synchronizing one's breathing with a slow and steady light pulse has a hypnotic effect, similar to watching a pendulum that helps you unwind quickly
4. Dodow helps you simmer down and calm the flow of your thoughts by keeping your attention focused on an external point (the light signal), without your having to concentrate on your breathing - the emphasis is paradoxically placed on keeping you awake.
We have no doubt as to the effectiveness of simple breathing exercises, but are less confident about the ability of our users to do them on their own ;).
Will Dodow disturb the person lying next to me?
No. If the person's eyes are closed, they will not be disturbed; if they do the exercise with you, they will fall asleep very quickly.