Simplify your lifestyle! Never forget your combination code, or need keys again for your valuables!
Baglock is having smaller size and battery capacity (80mAh) compared with Padlock (300mAh), which makes the Padlock more durable and has longer standby time, other than that, the technology is the same!
Overview
This smart lock allows you to unlock within 0.5s without keys, passwords or smartphones. Your finger is the key.
• Weather-resistant, perfect for Safe and Outdoor adventures
• Resistant to information leaks and fake fingerprint attacks
• Stores 10 sets of fingerprints;share the lock with family and friends
• 360?? fingerprint recognition
• Holds weight of up to 500kg
• Protects your Lockers, Bicycle, Toolbox, Pickup trucks, Courtyard, Trucks, Warehouse, Garages and a variety of others items.
Your finger is your key
Solving a series of security problems caused by losing keys and leaking passwords
We believe that everyone the trouble of losing or forgetting their heavy keysWith the advancement in technology, password locks were created. Although the coded locks would solve some inconvenience, there are still cases where passwords leak. In order to solve all the problems at once, the Anylock Team put in thousands of hours in developing different of possible programs to research & designFinally, the Anylock Team came up with the most advanced fingerprint padlock-the Anylock.
The Unlocking Speed of Anylock is faster than you imagine!
Distinguish from traditional locks and coded lock, instantly unlocks with a touch of your single finger. There is not with finding keys, not with entering the password. Extreme speed to unlock, only can do it.
Suitable for Multiple Occasions and Professions
Powerful Memory Storage Capability 10 Sets of Fingerprints
Anylock has super powerful memory storage capability which can store memory of 10 sets fingerprints at the same time. Besides, Anylock's special fingerprint recognition module, can recognize fingerprints from 7 to 70 years old. What's more, Anylock comes with the advanced touch recognition capability, which recognize the fingerprint from , and makes the unlocking process smooth as it can.
No Internet Connection to prevent from leaking private messages
Different from other Bluetooth padlock on the market, Anylock is an independent AI intelligent processing system. It integrates with multiple encryption technologies, which means all fingerprints are securely encrypted. refuses to connect with any network outside, and fundamentally eliminates the leakage of your private information.
Smarter Multi-Functional Security Expert
Anylock adapts AI deep learning technology, which can identify the changing process of fingerprints that have been entered. And automatically collect the new of fingerprints, replenish and repair the fingerprint data. Not only do the immature fingerprints, like children' fingerprints, but the fingerprints like the elderly' would not affect the sensitivity and accuracy of fingerprint recognition.
Accurate Recognition Efficiency And Avoid Fingerprint Cloning
A new upgraded intelligent learning algorithm that enhances recognition speed and effectively prevents false fingerprints, which ensures the accuracy of the falsehood rate and eliminates the potential risks of cloning fingerprints.
Sturdy Structure Prevent Forcibly Or Illegally Unlocking
Anylock not only has intelligent algorithms, but also has a fairly complex and solid structure. It is difficult to unlock it forcibly or illegally, so you don't need to lose your belongings.
304 High-End Steel
The Anylock R&D team has thousands of hours of research, hundreds of feasibility studies, dozens of program designs, and tens of thousands of security tests. The final 304 high-end steel, and all-zinc shell, with a scientific design and lighting effect, makes from the inside out, exudes a strong and reliable temperament.
is made of all-zinc alloy and cast by stamping process. It is seamlessly docked and can withstand more than 500 kilograms of tension. Even industrial-grade bolt cutters and hydraulic tongs can not cut the strong lock beam of the lock. The lock is with the capacity of anti-saw, anti-smashing, anti-shearing, and anti-smashing. The integrated stamping creates a full zinc alloy casing that seamlessly interfaces to prevent cracking or bedding.
Extreme Long Battery Standby Time
By using USB charging, equipped with a built-in 300mAh battery, 0.5um low power design. Just charge once and use up to 2500 times! The rechargeable battery is able to support 2-year standby time and 1-year normal use. When out of battery, the lock will remain locked. You just connect the lock to a power supply, and it will work again.
Waterproof and Dust-proof
IP65 waterproofing ability to effectively prevent dust, rain, and salt spray corrosion. It is treated with multiple PTFE processes and has excellent temperature resistance. In a variety of complex environments from -10°C to 45°C, can work normally without fear of extreme environmental tests.
Dust Cover
The dust cover of Anylock protects the fingerprint chip from external impact, avoiding of the fingerprint lock due to touch or rain wash. This design also greatly reduces the electricity consumption, ensuring up to two years of battery lifetime.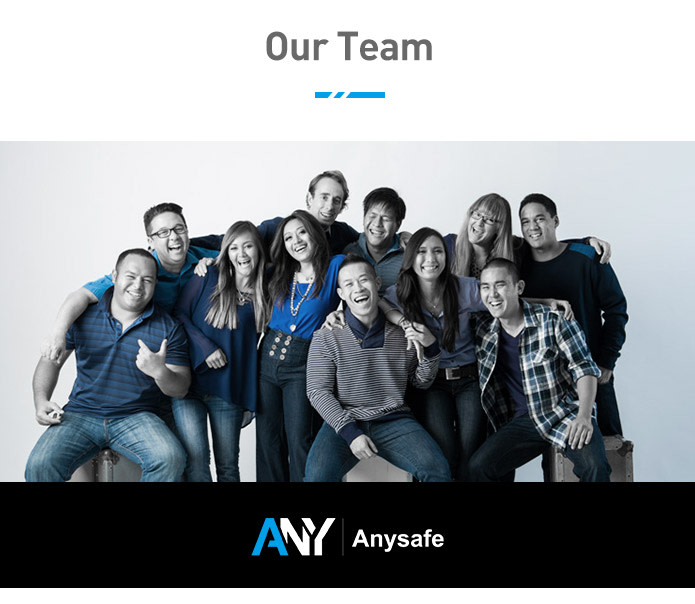 Information Technology Co. Ltd to produce car dashboard cameras since 2009. There are our distributors throughout of China, Anytek has been accepted by the end-users as one of the top brands in . The Hong Kong movie actor, Eric Tsang is our promoter.
FAQ
How to record the fingerprints?
Please make sure you have read the manual and set-up the video tutorial first before setting up the product to prevent the accidental lock. It can be unlocked by any fingerprint when there's no fingerprint recorded. During the recording process, please use the same finger to complete the 10 times fingerprint collections with different angles.
What happens if the battery dies while Anylock is locked?
The product can be under emergency situation---It can be unlocked by recorded fingerprint directly when charging.
Is Anylock waterproof?
The is waterproof. We will be applying for certification for IP65. dustproof and can withstand more than 500 kilograms of tension.
How does the Anylock compare with other smart padlocks in the market?
What's convenient is that family or friends do not need to download the Anylock app to receive the unique PIN codes or carry the heavy keys. All they need is finger itself to unlock. The first innovative fingerprint padlock with dust cover in the market.
What is Anylock use for?
If you are doing small business that has different coming in/out, there is no need for the passing of physical keys to staffs in the event of unforeseen circumstances. is perfect for lockers, pick-up trucks, and Airbnb .
How secure is Anylock?
Only the recorded fingerprint can be unlocked the Anylock. And only the first and second administrators have the function of adding fingerprints and delete fingerprints, and they are not connected to the network to ensure security.
How to charge Anylock?
The product by USB. Please fully charge the product for the first time.