Packed with convenient travel features and separate compartments, the Shift Pack will instantly become your new best travel companion. It's built to hold everything you need for work, play, and a weekend getaway. Thoughtfully designed rear compartment for your laptop, iPad, phone, power chargers.
As a rolltop it can expand significantly, and will protect your gear from unexpected weather. It's extremely comfortable to wear even for long periods of time so you can explore the city without having to stop for a break. It's compatible with modular accessories, such as the Tactical Pouch, Tech Sleeve and Water Bottle Holder (sold separately) that allow you to carry all of your essentials and access them in a quick and easy way.
Full specs
• An expandable internal compartment that can expand from 20L to 30L.
• A separate laptop compartment that holds up to a 17" laptop.
• Separate padded bottom compartment for camera/drone gear.
• Rear Compartment designed to store cables, chargers and other small items.
• Well padded straps with integrated quick access pocket for keys (key tether included), cards and cash.
• Quick access front pocket.
• The magnetic chest strap can be used to reduce the load on your back and shoulder.
• Rolltop closure and waterproof YKK zippers will keep your gear dry even in a downpour.
Dimensions
45cm x 28cm x 17cm 20-30L Volume: 20-30L
Exterior
Exterior 1000D Ballistic Nylon (Black)
Lining
210D Ripstop Nylon
Trims and carry handle
Leather
The Shift Pack
The Shift Pack was designed with one goal in mind, to be an ultra-versatile backpack that can instantly shift from a professional photography bag, to a travel bag, to an everyday tech bag. The Shift Pack offers the ultimate one bag experience.
The Shift Pack comes with features designed to make your travel effortless and fun.
Adaptable Storage Space
The Shift Pack uses a unique transformable storage space that can divide the backpack's main compartment into two sections when needed. Now you can store your clean clothes and dirty laundry separately.
Expandable Storage Space
Go from 20 L to 35 L in a matter of seconds.
Ezy-Access System
The main compartment can be accessible from the top, back and bottom of the bag.
Shift Pack allows easy access to every part of the bag.
Reduce Fatigue and Back Pain
Keeps your body tight against your back and transfers most of the load to your hips and legs. This helps to reduce fatigue on your shoulders and back during extended use.
Designed for All Body Heights and Sizes
Travel Securely
Hidden passport and cash pocket.
Esy-slide Luggage Sleeve
Makes transit through airports effortless.
Lockable YKK Zippers
Keep your valuables safe inside the bottom compartment.
Waterproof YKK Zippers
Equipped with YKK Stormguard zippers
Weatherproof Fabrics
Quick Access Pockets
Pillow and Headphone Holder
The patent pending dual use travel pillow and headphone holder makes airplane boarding more convenient.
Compartment for Dirty Clothes/Shoes
Rubberised fabric in the bottom compartment to prevent smell and moisture transfer between compartments. Keep your clean clothes smelling fresh for longer during travel.
Fits up to size 11 US shoes.
Carry-On Approved
Free Standing Design
The Shift Pack's flat bottom is designed to stand upright.
Designed to stand on its own without annoyingly tipping over.
Integrated Strap Management
Integrated strap management for safer riding experience.
No more dangling straps
Designed to Last
Equipped with a unique LOAD BRIDGE SYSTEM to distribute the carry load across both straps, so your strap won't rip even it is fully loaded.
??
Pockets for Tech Gear
Carry up to 6 laptops
Up to 4 laptops in the main compartment
Drop Protection
The suspended and padded laptop compartment protects your laptop from accidental drops and bumps.
Headphone Carry
The Shift Pack has several ways to carry your headphone.
Card/Key Quick Access Pockets
Quick access key ring.
Fast access card retrieval.
Dedicated Cable Storage
Dedicated pocket for charger and cables
Modular Tactical Pouch
The optional tactical tech pouch is compatible with all ALPAKA products and it can be carried as a standalone EDC pouch.
Our German Magnetic Locking system not only cool but also very efficient.
Shift Pack is engineered for high-quality. All the stitches, stress points, and tear points are reinforced.
COOLER FOR SUMMER
3D padding ensures better airflow to reduce sweating.
DJI Drone Storage
The padded bottom compartment was specifically made to hold the DJI Mavic Pro and Spark drone. Now you can take them anywhere you go.
More Camera Storage Options
If you are a casual photographer, the drone compartment is big enough for a full size camera body and one camera lens. If you need to carry more camera gear upgrade to the full photography experience using our removable CAMERA KIT SYSTEM (available for order after campaign).
The Camera Kit System holds up to two full size camera bodies and 4 camera lenses.
Tripod Mount
The Shift Pack was designed to provide versatility to the photographer. It features a removable magnetic tripod strap system for securing your tripod (available for order after the campaign).
Equipment Protection
The multi-purpose drone/camera compartment is FULLY PADDED for protection against accidental drops and bumps.
FULLY PADDED against accidental drops and bumps
Not a Regular Camera Bag
When you are travelling with your expensive camera gear you want to be discrete about it. This is why Shift Pack wasn't designed to look like a regular camera bag.
review
WE ARE ALPAKA
Born right here on Kickstarter. Our name was inspired by the South American animal alpaca. It roams in the toughest conditions in the Andes and represents the idea of perseverance and the 'keep moving forward' mentality.
Our vision is to solve problems by integrating a progressive style, ergonomic design and technical fabrics in the most sustainable way we can.
Every design we make comes from our idea of what beautiful aesthetic and great functionality should be.
Our products are hand-crafted and they are inspired by the multi-faceted lives of modern times. Minimal and made for urban life, but also durable and versatile for short nature trips.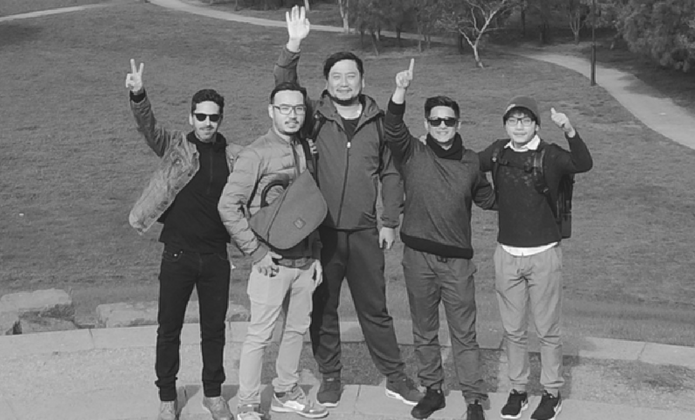 Material used