Discover new worlds with this compact sling that keeps your essentials in reach, out of the way and tucked away. It's big enough for your essentials, a small mirrorless camera, a passport, your phone and small enough to keep you light on the go.
The Go Sling Mini is made from lightweight Kodra HT (nylon) fabric which not only looks great but is also durable so it can hold up on any adventure.
• 500D Kodra HT (6,6 Nylon) DWR
• Magnetic Fidlock buckle in the middle of the strap for efficiency
• Anti-theft, lockable zippers
• Integrated key tether to keep keys in one place
• Comfortable & easy to adjust Soft Nylon Strap
• Fits a Nintendo Switch
• Weatherproof fabrics
• Waterproof zippers
• Compatible with HUB Accessories
• Compatible with the Magnetic Stabilizer Strap(sold separately)
Full specs
• Internal scratch proof tablet sleeve fits an iPad Mini or a Nintendo Switch
• Premium Fidlock magnetic buckle
• 3 compartments
• Compartments are lined with 210D Ripstop Nylon
• Front quick-access compartment
• The main compartment comes is equipped with two pockets to store smaller items
• The rear compartment is designed to carry your Passport and other small valuables
• Key tether in the front compartment
• The strap can be quickly and easily adjusted on the go
• Lockable zipper
• External Fabric: 500D Kodra HT (6,6 Nylon) DWR
• Internal fabric: 210D Grey Ripstop Nylon
DIMENSIONS
Length: 29cm (11.4") Height: 19 cm (7.5") Depth: 6 cm (2.4")
Volume: 4L
Weight: 330grams
Shoulder strap length: 110cm (not including bag length)
THREE FORMATS
1. Waist Pack - Can be worn around the waist.
2. Crossbody - Can be worn as a sling, in the front or in the back.
3. Over the shoulder - Can be worn over the shoulder by lengthening the handles.
Fabric EXTERIOR
500D Kodra HT (6,6 Nylon) DWR
Rugged – excellent resistance to abrasion
Strong - excellent tear strength
Water Repellent – finished, coated and laminate options
100% high tenacity nylon 6,6 filament fiber
Interior Fabric
210D Grey Ripstop Nylon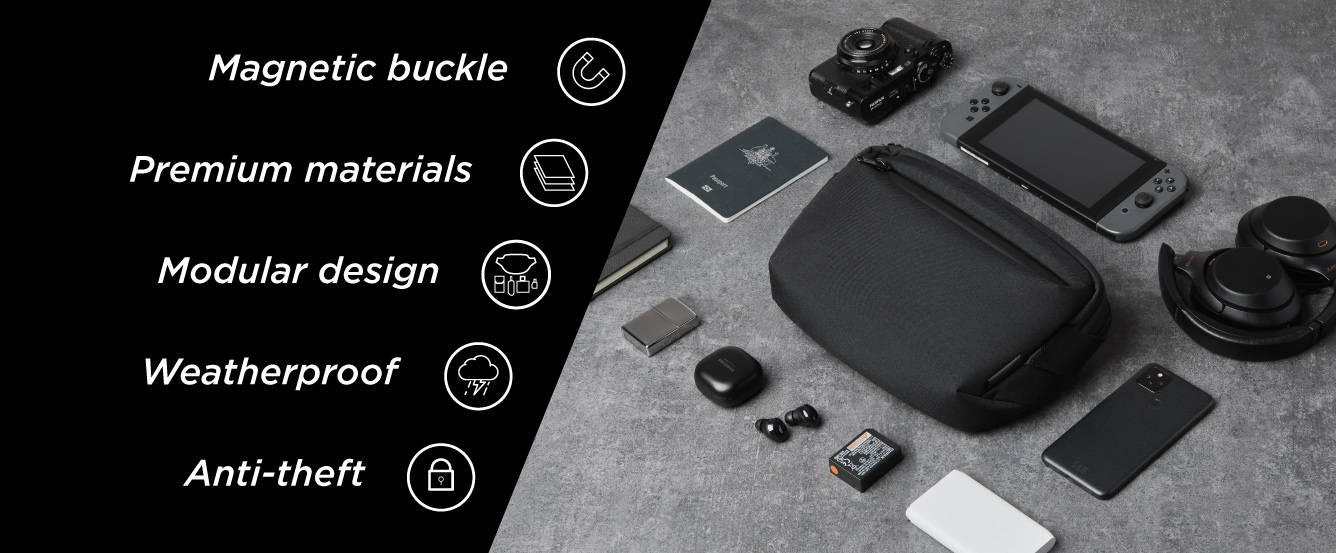 ---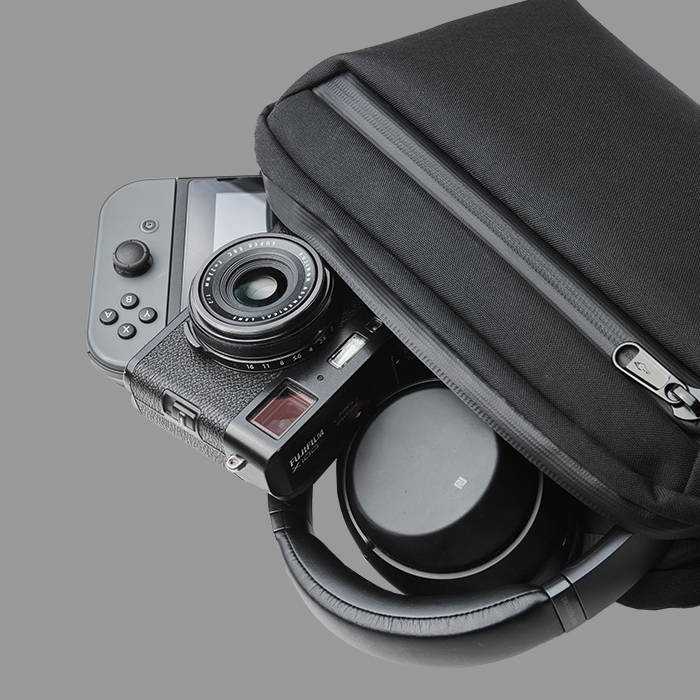 ORGANIZED
Store your tech devices, cables and chargers with internal organization for small accessories.
It also comes with a scratch proof tablet sleeve so you can safely carry your iPad Mini, Kindle or Nintendo Switch.
---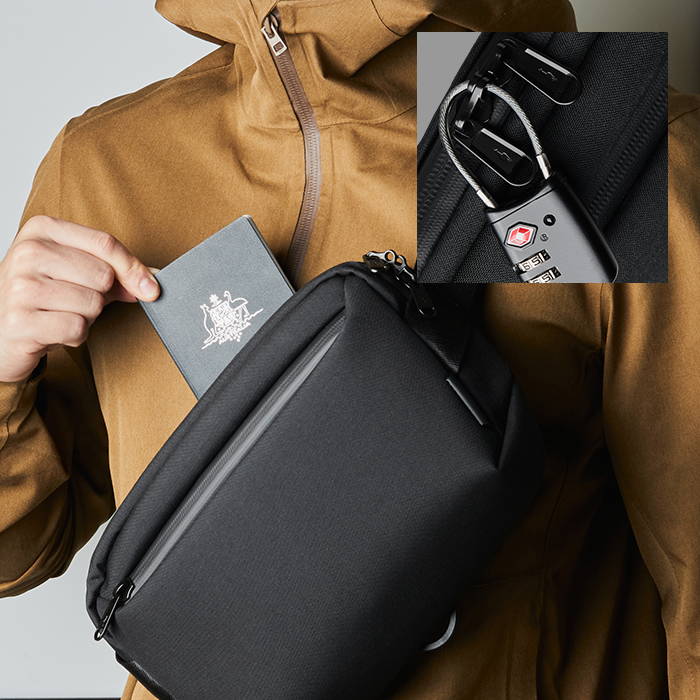 TRAVEL READY
Thoughtful organization and compartments to safely store your daily and travel essentials in the right place.
Lockable zippers you can quickly and easily lock in crowded places.
Compact & ultra-light design that won't weigh you down.
---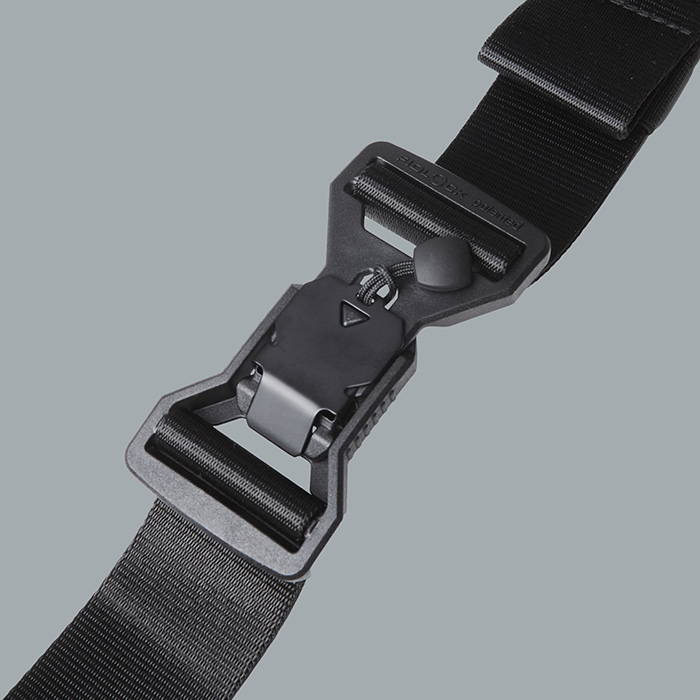 FIDLOCK MAGNETIC BUCKLE
Premium, German-designed magnetic buckle for that magic feel.
Convenient and easy to use so you can unbuckle it with one hand but stays secure when wearing the bag.
---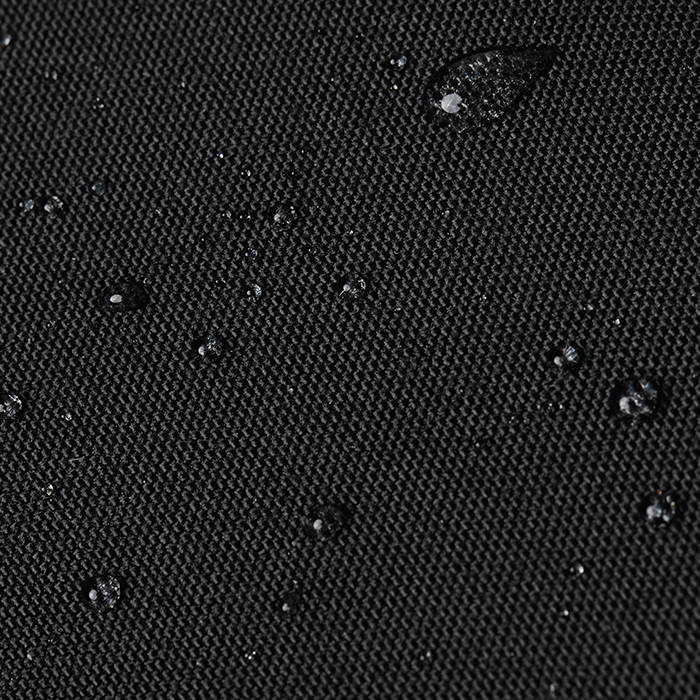 HIGH-QUALITY WEATHERPROOF MATERIALS
Waterproof zippers will keep your gear dry even under heavy rain.
Water won't penetrate the inside of the bag with these naturally hydrophobic weatherproof fabrics.
---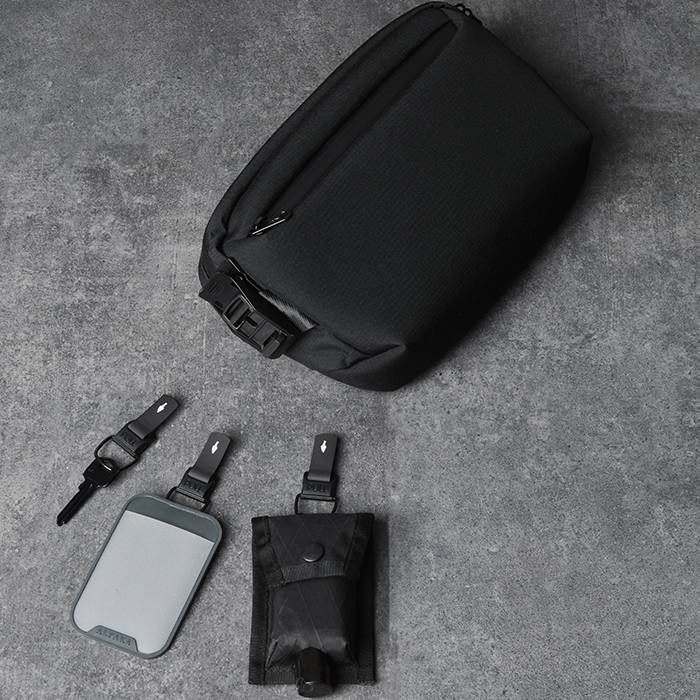 MODULAR DESIGN
The Go Sling Mini gives you the freedom to add as many modular accessories (sold separately, click here to get it) as you need for a convenient hands-free experience.
These optional mods are made to enhance your day and give you an extra sense of convenience.