Regular price
RM499.00
Sale price
RM399.00
Unit price
per
Sale
Sold out
Share
---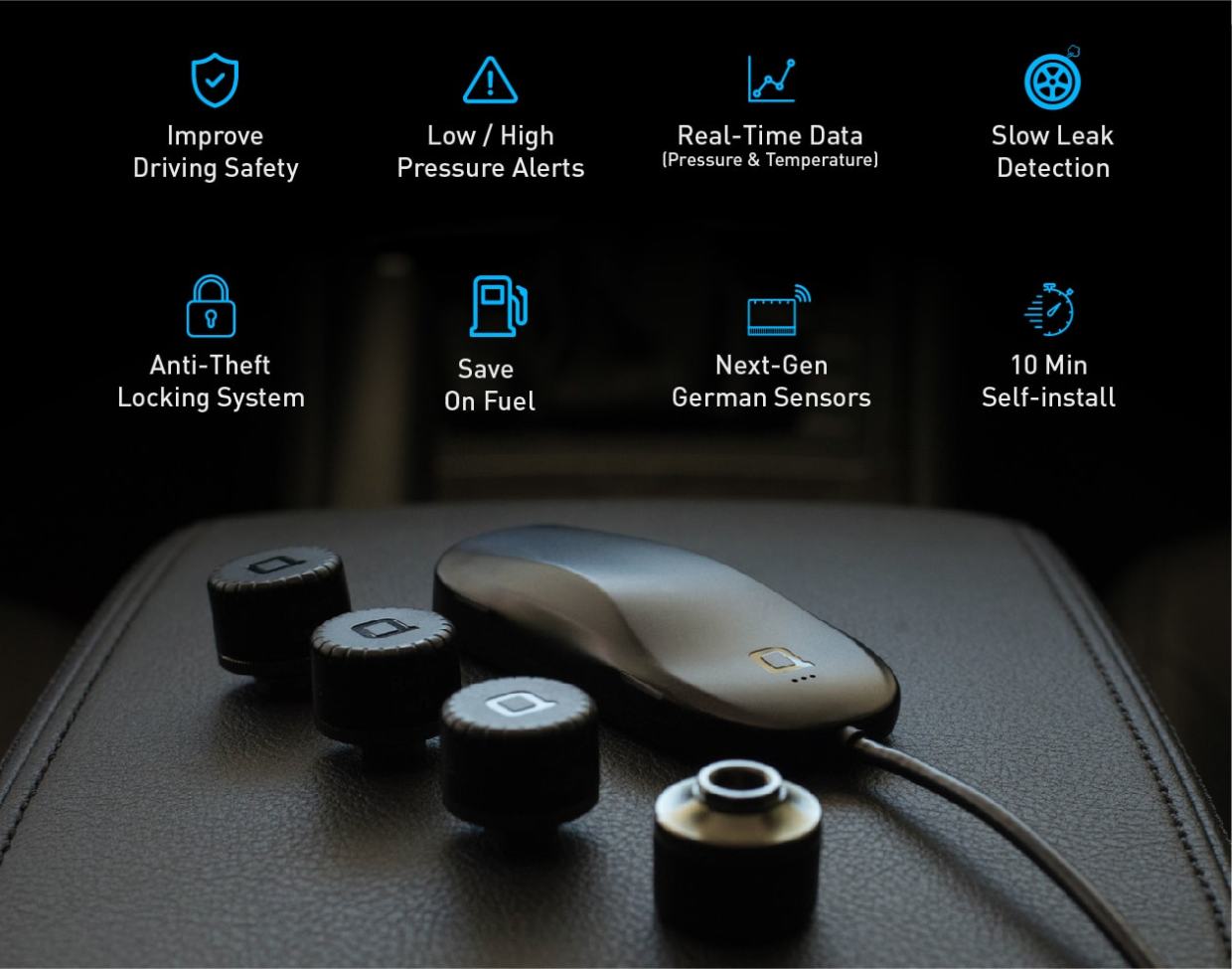 A set of 4 sensors, attached to each tire, detects tire temperature ( °F/ °C) and pressure data in real-time.


Data passes wirelessly through the in-car receiver and instantly appears on the ZUS

®

app through Bluetooth. The receiver will blink and sound off an alarm??whenever an issue is detected.


View individual tire pressures (as PSI/kPa/Bar) and temperatures directly on your smartphone.Get app notifications whenever things look abnormal.




Why Slow Leaks Are Hard to Detect
Slow leaks caused by tire punctures from screws are hard to detect because the leakage rate is often too low (i.e. ~0.1% PSI per hour). Also, natural pressure fluctuations that occur due to temperature changes during the day can mask any slow leaks.
How Our Product Can Detect Slow Leaks

The ZUS

®

app stores both tire temperature and pressure history, allowing our proprietary AccurateTemp Algorithm to normalize temperature fluctuations throughout the day, so that you can see accurate tire pressure changes. In this way, you can tell whether your tires are leaking slowly or not.



With only 3 installation steps, take ZUS

®

with you on your next trip and install it on your rental car in just 10 minutes - a small investment in exchange for yours and your family's safety while on the road.




Underinflated tires cause your fuel consumption to go up. Easily put more money back into your pocket by keeping your tires properly inflated. The ZUS app lets you know when your tire pressure is low.




Keep sensors secured with our locking kit, a set of 4 locking nuts, which locks your sensor in place to prevent your sensors from being easily unscrewed by strangers. This locking system also keeps your sensors tightly fastened when going off-roading. Included free of charge.




Connect the receiver to a USB car charger and then charge up your mobile devices through the receiver's reversible USB charging port, which enables you to plug in your cable in any direction. This way, you never lose a charging port.




Next Generation German Sensor:





Meet the ZUS Smart Tire Safety Monitor. With ZUS, you no longer have to guess what's wrong with your tires. Viewindividual tire pressure data directly on your smartphone for a safer drive and improved gas mileage. Powered by an intelligent algorithm, ZUS warns you of any slow leaks before they become a serious problem. It's perfect for your 4-wheel drive or pickup truck.
Control it all like magic
In a careful selection of products, we bring together tech gears and gadgets of the highest standard, surrounding ourselves with fewer but better stuff. We are dedicated to products that are durable, designed to last .
Read More