This is the secret weapon in your skincare routine. Our Super Fresh Face Scrub uses coconut-derived cleansers to give you a deep clean without destroying your face. Plant-based ingredients like Aloe Vera, Tea Tree Oil and Mint work together to create a tingly, fresh feeling you'll love as you gently scrub away impurities.
The scrubs you find at the store are crammed full of plastic beads and harsh chemicals, stuff that has no place on your face. Ours is 100% plant-based and filled with biodegradable beads. It naturally sloughs off dead skin cells, dirt and oil, leaving your face refreshed and prepped for an ultra-close shave.
FREE OF SILICONES, PETROLEUMS, PARABENS, SULFATES, AND PHTHALATES; ANIMAL-FREE, CRUELTY-FREE.

Organic Aloe Barbadensis Leaf Juice, Sodium Lauroyl Methyl Isethionate (a Sulfate-Free, Coconut-Derived Cleanser), Cocamidopropyl Hydroxysultaine, Acrylates/Palmeth-25 Acrylate Copolymer, Glycerin, Decyl Glucoside (Coconut-Derived), Sodium Hyaluronate, Panthenol, Allantoin, Sodium PCA, Sorbitol, Sodium Lactate, Proline, Sodium Lauryl Sulfoacetate (Sulfate-Free, from Coconut), Disodium Laureth Sulfosuccinate (Sulfate-Free, from Coconut), Menthyl Lactate, Calenddula Officinalis Flower Extract, Cucumis Sativus (Cucumber) Flower Extract, Epilobium Angustifolium Flower Extract, Paullinia Cupana (Guarana) Extract, Carica (Papaya) Fruit Extract, Camellia Sinensis (Green Tea) Leaf Extract, Salix Nigra (Willow) Bark Extract, Glycyrrhiza Glabra (Licorice) Root Extract, Mentha Piperita (Peppermint Oil), Tocopherol, Ascorbic Acid, Phenoxyethanol (a Preservative), Ethylhexylglycerin (a Preservative), Sodium Hydroxide, Fragrance.
How long will a tube last me?
Our scrub should be used 2-4 times a week. This means a 3.4oz tube lasts most customers about 3 months.
What are Skin-First Formulas?
All our skincare products are made without 100+ harmful ingredients commonly found in skincare products. Instead, we use industry leading ingredients, designed to restore, hydrate, and protect your skin.
How does this fit in my skincare routine?
Gently massage into a lather on wet face in small, circular movements. You're not scraping a grill. You're washing your face. Enjoy the super fresh feeling of the mint and let the biodegradable beads do the work. Rinse with warm water to finish. You should use our face scrub 2-3 times a week. It's a deep clean. So, it's better for your skin to not use it every day. When you use it as part of your pre-shave routine, only focus on the parts of your face you're going to shave. It will remove oil and lift hairs, prepping your skin for the Single Edge. Always follow the face scrub with our Multi-Purpose Moisturizer.
What's so great about a water-free formula?
Most scrubs are 50% water to make it seem like you're getting more. Super Fresh Face Scrub is aloe-based to actually give you more. Water-based cleansers strip essential oils from your skin, leaving it dry and sad. Our formula is entirely water free - which means it lasts twice as long, and restores moisture to your skin instead of stripping it.
Squeeze dime-sized dollop into your hand. A little goes a long way here!
Rub hands together in a circular motion to create lather.
Massage and scrub lather into wet skin for 30-45 seconds. Be generous! This allows the ingredients to fully activate and nourish your skin. Hello, freshness!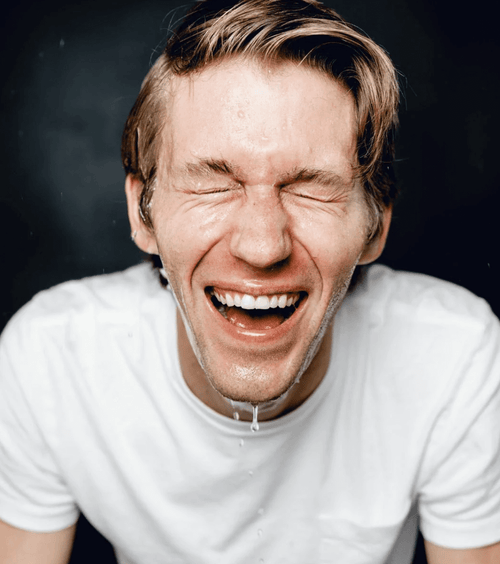 Skin-First Formulas
We always wondered why most face scrubs are crammed full of harsh detergents and plastic beads. After all, you're washing your face – not the dishes. Turns out, it's much cheaper that way. Supply chose a different route. We avoid synthetic goo, and fill all our products with the best plant-based ingredients on the planet.
Our skincare products are proudly missing parabens, mineral oil, phthalates, silicone, sulfates or dozens of other chemicals that have no business on or near your face.
Skin-First Formulas™ means we choose to do the right thing and put your skin first.
---
Why Should I Exfoliate?
It's the missing piece in your skincare routine. Your face wash and moisturizer are doing everything they can to keep your skin clean and young looking. But they aren't getting deep enough into your pores to have the impact they could.
Our face scrub removes the buildup that stops the rest of your routine from having its full effect.
When you use it before you shave, it opens up the pores and lifts the hair from the skin. This allows all those awesome plant-based ingredients in your shaving cream (if you're using our Ultra Lather Shaving Cream) to get down into your skin. It also makes it easier for the blade to cut the hair, giving an even smoother gliding feeling. Put the two together and you get the full effect of a Single Edge shave.
---