Every time you shave, tiny invisible cuts appear on the surface of your skin. Our alcohol-free Healing Post Shave soothes inflammation, enhances cell repair, and keeps your skin moisturized throughout the day.
Instead of using harsh chemicals, we created a gentle blend of witch hazel, aloe vera, vegetable glycerin, and shea butter – carefully balanced to replenish even the most sensitive and acne-prone skin.
White Birch & Sage: Notes of cypress, pine & earthy scents. White Birch to give you the mountain man vibes. Sage to kill the bad vibes.

Lavender & Lemon (Previously "Calm"): Notes of blue sage, lavender & eucalyptus. Soothing and stress-relieving – like a stroll through a French lavender field.

Bergamot & Juniper (Previously "Crisp"): Notes of juniper, bergamot & jasmine. Woody and masculine, like waking up among conifer-covered peaks.

Fragrance-Free: All the amazing ingredients, without the Fragrance.

Ingredients Organic Aloe Barbadensis Leaf Juice, Polysorbate 20, Glycerin, Hamamelis Virginiana (Witch Hazel) Water, Fragrance, Allantoin, Butyrospermum Parkii (Shea) Butter, Tocopherol, Phenoxyethanol, Ethylhexylglycerin, Sodium Hydroxide, Fragrance (no Fragrance in Fragrance-Free)
How long will a bottle last me?
Each of our 2 oz. spray bottles last most customers about 3 months.
What's so great about this post shave?
Our Aloe Vera-based post shave tonic is the perfect way to end your shave. The alcohol-free formula, instead loaded with all-natural ingredients, hydrates and nourishes freshly shaved skin, protecting it from dryness and irritation.
Why should I stop using my cheap after shave?
The reason alcohol is included in many post-shave products is due to it's astringent and antiseptic properties. The problem with this is that alcohol also can exacerbate razor burn and make it challenging for your skin to retain crucial moisture. Even worse, alcohol can, in some cases, tighten skin to a point where the dryness creates a barrier-like surface. This barrier makes it difficult for hair to pierce through the skin layer, leading to the development of ingrown hairs.
Our post shave can be applied a few different ways:
Apply a few pump sprays evenly around your face from about a foot away, letting the mist settle on your skin.
Apply a few pump sprays evenly around your face from about 6 inches away then massaging the excess liquid into your skin.
Take a few sprays into the palm of your hand, forming a little puddle. Then, rub into both palms for a few seconds and massage the liquid into your skin.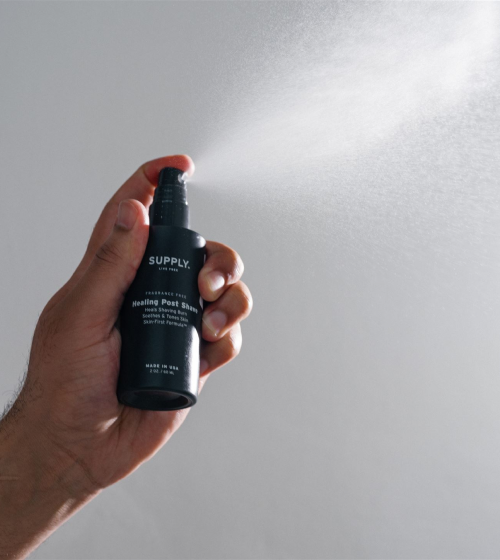 A Refreshing Post-Shave Ritual
Many aftershave lotions contain the same type of alcohol as hospital-grade hand sanitizer. This alcohol kills bacteria, but it stings like salt in a wound, and it's bad for your skin in the long run.
Our post-shave balm is also anti-bacterial, but it's 100% alcohol-free. Think of it as a nourishing juice for your skin – soothing irritation, boosting skin cell repair, and keeping you hydrated and moisturized.
Best of all? Unlike typical aftershaves, it'll actually make your skin healthier if you use it regularly.
---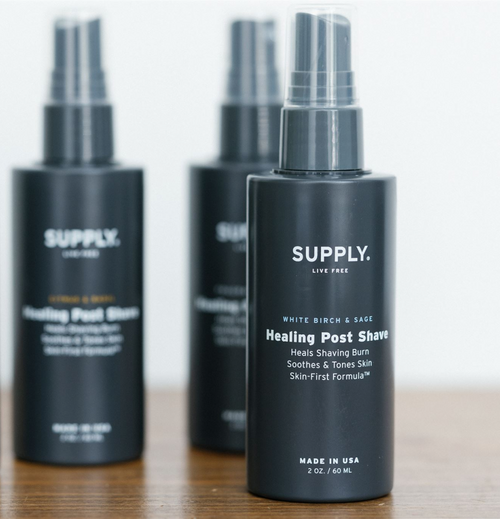 From Soil to Sink
Witch Hazel

The witch hazel plant is a spookily effective natural astringent. Its scientifically proven anti-inflammatory and anti-oxidant properties make it an ideal remedy for sensitive skin.

Bonus: witch hazel also fights acne and eczema.

Aloe Vera

Used for medicinal purposes since the time of the Ancient Egyptians, aloe vera is a grease-free hydrator and moisturizer. It's great for oily skin – and its natural healing properties soothe and repair the small, invisible cuts caused by shaving.

Vegetable Glycerin

Derived from plant oils, vegetable glycerin is a natural humectant. It hydrates your skin, improves skin cell function, and accelerates wound healing.
---