Regular price
Sale price
RM399.00
Unit price
per
Sale
Sold out
Availability:
Pre-order, shipping usually takes 2-3 weeks
This is a pre-order item. This item will be shipped out directly from our supplier warehouse after the order is confirmed, it may take longer or shorter than expected, we will get in touch if the item is not available with an alternative or refund option.
Share
---
Material: Polyester fiber, Cross-linked polyethylene,Sponge, XPE, EVA
Measure : 150 x 90 x 340 mm
Weight : 591 (g)
Bluetooth Version: 5.0
Caution:
Do not machine wash. Do not apply sharp object or excess force on the LED panel.
Pixoo-Slingbag is a stylish sling that suit your taste, yet verstile for for the urban daily life. It features a built-in LED screen and a mobile APP that lets you draw animation, display favorite logos, and communicate with others on your sling.
---
Pixel Art Creation
Create any pixel art animation easily via the Divoom mobile application, or you can convert GIF to display. You can also type in the message and display it on your Sling Bag. Best of all, you can search your desired design from the a massive online gallery, and interact with other pixel art fans around the world.
---
Weather Resistant
Pixoo Sling bag protects your belonging with the water resistant material under tough weather condition.
---
Safeguard your journey
Pixoo sling bag is compatible with our remote control, where it will transform the sling into an indicator for the following traffic. You can also program different images and action to the remote buttons.
---
Magnetic Quick Release Buckle
Say good bye to the old school v-shape insert buckle. The manetic buckle is so easy to operate, and strong enough to hold your precioious cargos. Clip on, and clip off; you're good to go.
---
Semi-Open Storage
Pixoo Slingbag features a dual sides open pocket to store your off-sized gears
Quick-access external storage from both sides of the bag.
Perfect for storing water bottle, unbrella, or power bank.
Water resistant internal material for wet unbrella.
---
Exterior Device Strap
Pixoo Slingbag has a pair of exterior device strap. When latched, it will help to reduce the exterior size of the sling bag, and you can unlatch to create an extra interior space. Also, you can strap oversize gears, such as: DJI Osmo, Bike lock etc...
---
Overview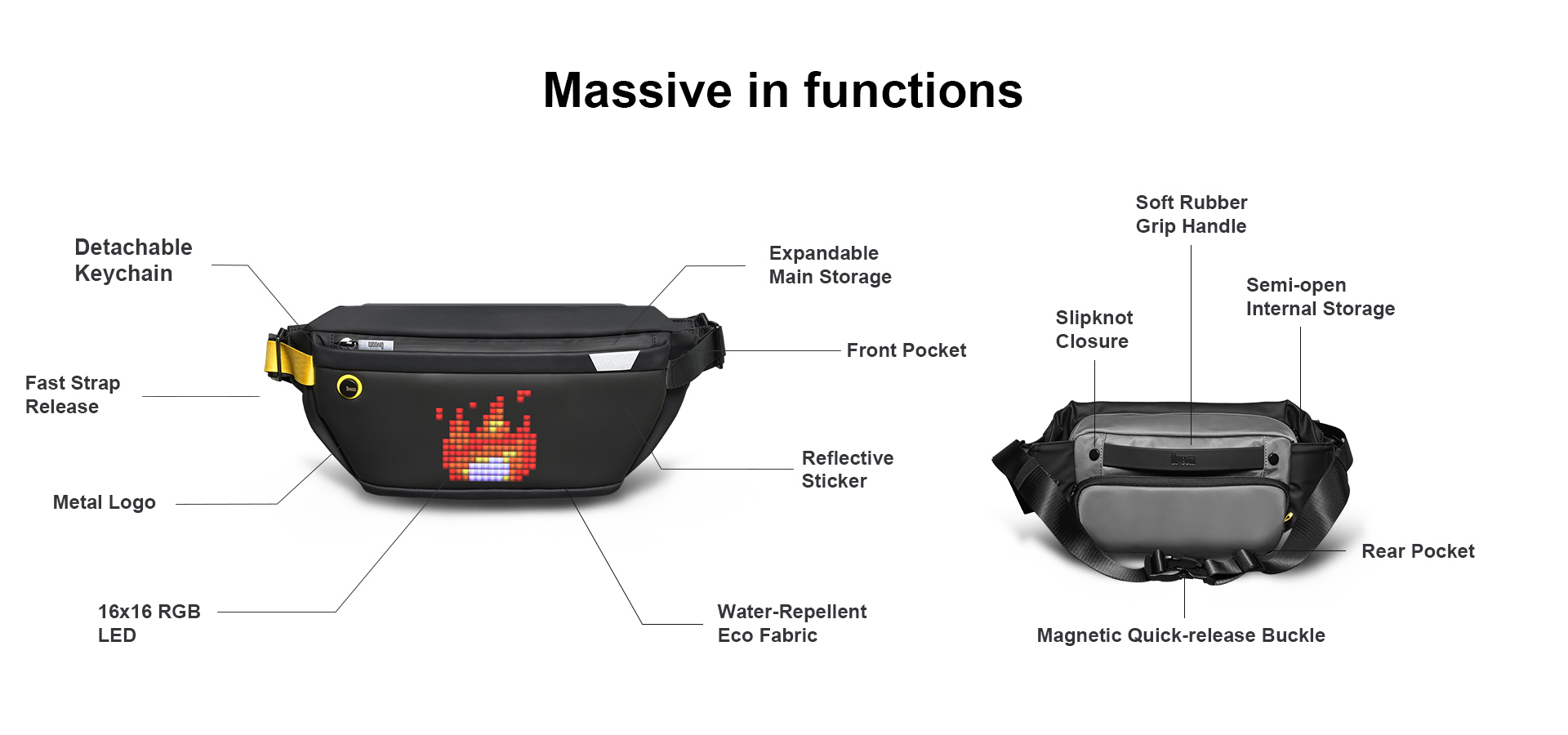 Control it all like magic
In a careful selection of products, we bring together tech gears and gadgets of the highest standard, surrounding ourselves with fewer but better stuff. We are dedicated to products that are durable, designed to last .
Read More