Ship out by late July
Covered Face & Roll Over
Detection for Peace of Mind
Safe Sleep for Babies. Peace of Mind for Parents! Developed with a pediatrician, Cubo Ai's face detection technology alerts you if it recognizes that your baby's mouth and nose are covered or if they're stuck when rolling over. Get alerted by our app in real-time!
Danger Zone Detection:
Protecting your little one from 0-5 years old!
Cubo's Danger Zone Alert protects your baby beyond the crib and warns you if your little one is entering somewhere they shouldn't be! Use Cubo with the mobile stand to transition from baby monitor to toddler cam.
HD Night Vision:
Always Have the Best View of Baby
No more squinting or fumbling in the dark during late night check ups! Cubo's 1080p HD Night Vision is powered by Sony's STARVIS CMOS sensor - professional grade security camera lens designed to display the finest details in day and night with 2x higher sensitivity than standard night vision views.
1080HD/135° Wide angle
No Visible Red Light
Soothing Night Light
Cubo Ai Baby Monitor
Other Monitor
---
Sleep Monitoring and Soothing
Cubo Moms & Dads Rating
Baby's Sleep Health, Patterns, and Analytics in one Simple Report
Forget adding up your baby's sleep hours on a manual log. While you do the parenting, we take care of the numbers so that every morning you can see a report with your baby's sleep health in easy-to-navigate stats from last night.
---
Soothe Your Baby Any Time With Cubo's Built-in Lullabies
Soothe your baby to sleep from anywhere with the sounds they love. No need to purchase additional bluetooth speakers. Cubo's Built-in baby-friendly classic music, controlled directly from the app, plays nature sounds white noise, and soothing sounds for baby's dream soundtrack.
---
18-hour Playback, Recording, and Event Tags
Our way to make sure you never miss a thing! Scroll back through your baby's last 18 hours and see tags guiding you through every event from the previous night. Want to keep a sweet moment? Your 1-year free Cubo Premium allows you to record anything from the playback and keep the video forever.
---
Automatic Photo Capture:
Your baby's personal photographer
Never miss a "first-time" again with Cubo's help! Our A.I. can detect if your baby is smiling, crying, or making big moves and automatically snaps a photo for you to keep in your app- first time sitting up and first head lifts included! Organized by age on the Moments Wall , it's like your baby's very own digital scrapbook!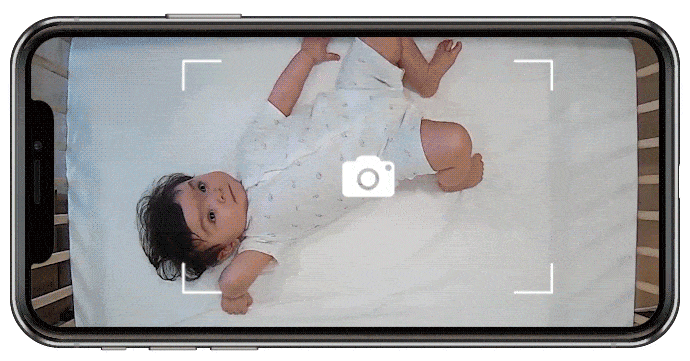 Experience Cubo Ai's Always Up-to-Date App
Control and customize camera functions and alert settings to fit your baby's needs. Scroll through the Moments Wall or peek in at your baby's live feed any time, day or night.
Never miss a moment with Cubo Ai's 18-hr playback.
Multiple Cubos? No problem! Big Family? Cubo can handle that, too.
Top-level security that's better than your banking apps.
---
More Thoughtful Features
Always know when your baby needs you!
All you need is your phone and you'll never be out of range from your baby! Once our Ai detects your baby's crying, you'll receive an app alert so you can rush to their side.
---
Be with them no matter where you are!
Whether you're downstairs doing housework or away from baby on a work trip, you can always connect with your little one with Cubo's 2-way audio and even soothe them with our lullaby playlist. The integrated speaker reduces distortion and improves efficiency, so what baby hears is as if you were right there with them.
---
Doctor-Recommended Temperature Range
Always know if your baby is comfy and happy. Cubo Ai comes with a doctor-recommended temperature and humidity sensor that can tell if your baby's room is out of the safe range of comfort! We'll send an app alert if their room is too hot, cold, or humidity isn't the best so you can stay informed and take action.
---
Customized Alerts Allow Only Notifications You Want to See
We know your baby is unique and only you know best how to take care of them. That's why Cubo Ai's alerts are customizable. Change your notification settings anytime! We provide the tools and the tech, you choose how you'd like to use them.
---
Tech That Feels Like Home: Cubo Ai's Design
Cubo Ai's unique appearance brings warmth to your nursery. We bring together an adorable bird design with a messenger-bird function to help all our Cubo parents do their job of watching over baby while also keeping wider family members informed and your nursery beautiful
---
---
Adaptive Stand that Grows with Your Little One
Use Cubo with most cribs, cradles, bassinets, or anywhere else. No tools required!
Crib Stand
Floor Stand
Mobile Stand
Specifications
• Product Dimensions: 3.42 x 4.27 x 4.39 in
• Weight: 220g / 9.9oz
• Video: Sony STARVISTM CMOS Image Sensor, 135° Wide Angle Lens, 4x Magnification
, Resolution: 1080p HD, 
Format: H.264, 
Night Vision: No visible red light (940nm infrared LED)

• Wi-Fi: Frequency: 802.11b/g/n/ac 2.4GHz/5GHz (WEP, WPA, WPA2 encryption supported), 
Wi-Fi Maximum Speed: AC433
, Range: 300 feet line of sight
• Audio: High-Fidelity microphone, build-in speaker
• Night light: Warm-colored smart light

• Air Sensors: Digital temperature and humidity sensor
• Materials: UV-Stabilized Child-friendly Polycarbonate

• Power: Input:100-240VAC/50-60Hz, Output: 5V/2A

• Certification and Safety: FCC/CE/IC/RSM/NCC/BSMI
• Security: Enterprise level security (AES-256 bit) symmetric-key encryption/ Encrypted data protection (TLS/SSL)

Requirements
• Internet connection via Wi-Fi (at least 5Mbps)
• To set-up your Cubo Ai, you'll need a compatible iPhone (iOS 10 and above) or Android device (Android 5 and above)
Package Content
Cubo Baby Monitor, Crib Attachment, Floor Base Water Bag, Mobile Stand, Temperature & Humidity (T&H) Dongle, Wall Plug(x2), U-shaped Camera Holder, L-Shaped Stand Element, Stand Element(x3), Stand Connector(x2), 3 M Cable, 2 M Cable, Crib Stabilizer(x1),Crib Stand Safety Cap
Warranty: 1 Year
6,000+ PARENTS & PEDIATRICIAN approved! The best A.I. baby monitor to safeguard your baby's safety from age 0-5+. A.I. detection for Covered Face, Danger Zone, Sleep Analytics, Auto Photo Capture, Crying, and lots more.